Vitamin C is a powerhouse ingredient in the world of skincare.
It's a component in skincare that's got people raving, with many skintellectuals adding this ingredient into their skincare armoire.
Some studies show that vitamin C works as an anti-aging and brightening aid, but it has also been shown to help protect skin from sun damage. It's definitely a well-researched ingredient. 
Vitamin C levels in the outer layers of the skin (the epidermis) are abundant while we are young, but these levels naturally decrease as we age. Sun exposure and pollution can speed up the loss of firmness in the skin, resulting in skin that appears dull, rough, and saggy.
Harnessing the potent power of Corallina Officialis (red coral seaweed) along with other active ingredients like vitamin C, you'll find just what you need to attain that glowing, youthful skin with the Lavelier Vitamin C Serum.
Here's exactly why you need to be using the Lavelier Vitamin C Serum this summer.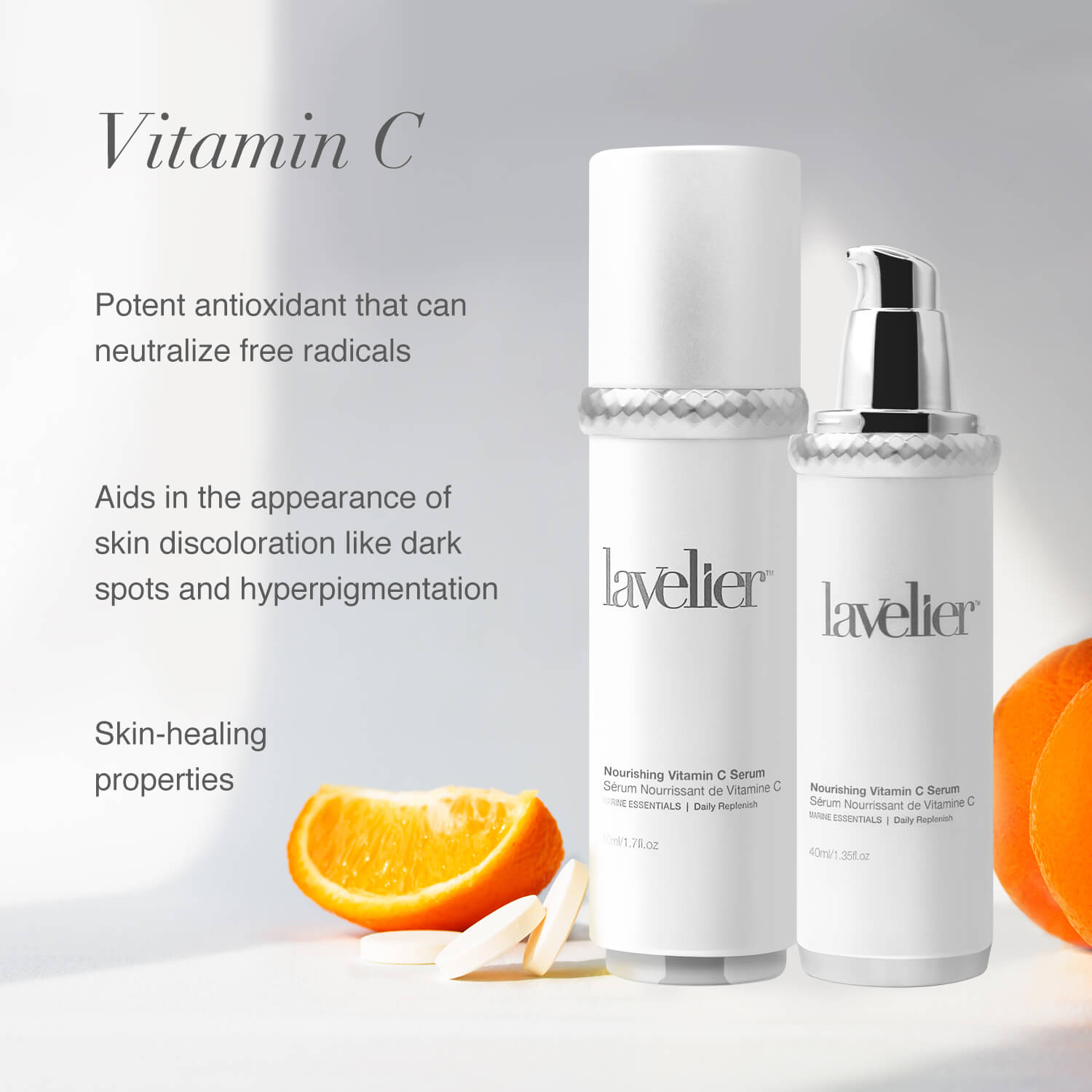 The Lavelier Vitamin C Serum Will Boost Your Collagen Production
Did you know that there's so much more to vitamin C than being an antioxidant?
Its got so many more skin-healing benefits that make it a must-have in your skincare drawer.
According to New York City dermatologist Howard Sobel, applying vitamin C topically to your skin can stimulate collagen and elastin production. This means collagen and elastin are both protein fibers naturally found in the body and help maintain your skin's plumpness and firmness.
Without enough vitamin C, the body will not be able to create collagen. Collagen is the core of skin, hair, muscles, and tendons, and it contributes to the maintenance of the skin's smoothness.
Age also decreases collagen production, resulting in saggy skin. Topical application of vitamin C increases collagen and elastin production, helping to keep skin firm and plump.
Using topical vitamin C like the Lavelier vitamin C serum can help prevent premature skin aging. This can improve the appearance of the skin in many ways and add years to one's appearance.
Get That Hydrated Bounce in Your Skin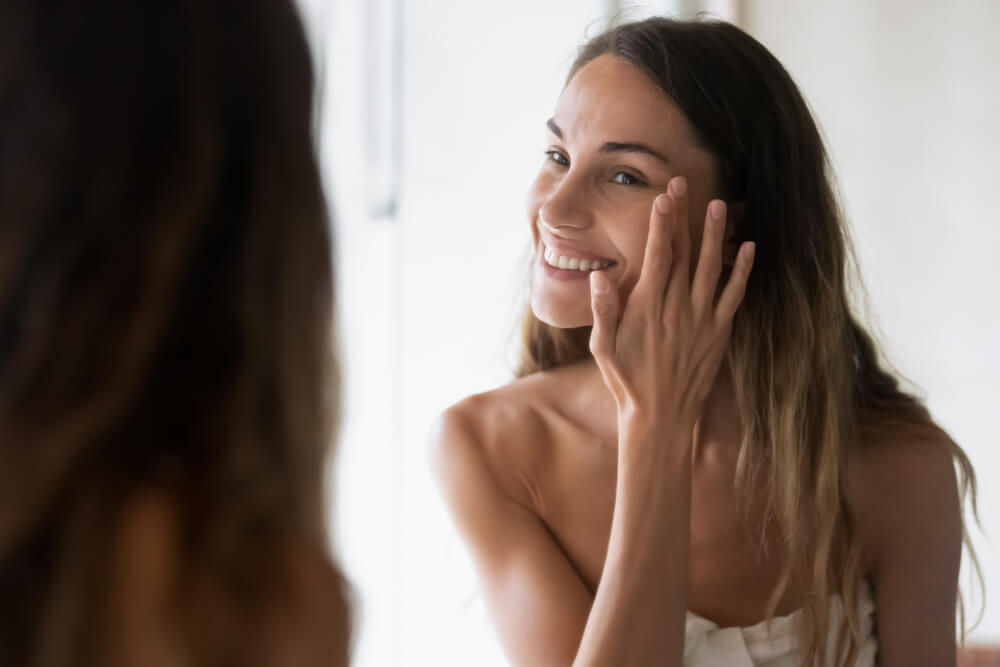 To avoid dry, itchy skin and premature aging, you need to ensure there is enough moisture in your epidermis (the top layer of skin). Research has proven that using a daily vitamin C skincare product will improve your skin's hydration. It will keep it beautifully soft and smooth.
Vitamin C has been shown to give the skin that extra boost of hydration because it prevents transepidermal water loss.
What's excellent about the Lavelier vitamin C serum is that it also contains glycerin dibehinate, a combination of glycerin and fatty acids. Glycerin is an excellent humectant for the skin, as it helps increase skin hydration, alleviate dryness, and refresh the skin's surface.
Additionally, it is an emollient. This means it can soften and condition the skin.
Say Goodbye To Summertime Redness With Vitamin C
Because of vitamin C's anti-inflammatory properties, it is a huge savior in helping to reduce skin redness.
Besides repairing skin redness, which may result from damaged capillaries, Vitamin C also works to mend these broken capillaries. This leads to a smoother, more even complexion.
However, those with sensitive skin often avoid vitamin C serums. Some users may experience irritation such as stinging, itching, and dryness when using topical vitamin C.
The Lavelier vitamin C serum can be layered with a moisturizer to buffer the potency of the product. However, even those with sensitive skin don't usually have an issue with this formula. Its soothing and hydrating ingredients counter any potential irritation. 
Still worried? You can always start with a lower vitamin C concentration and observe how your skin reacts.
It's essential to do some testing before adding vitamin C to your regular skincare routine, regardless of your skin type. To prevent possible redness and irritation, start by applying the vitamin C serum every other day, or every few days. Then, gradually increase this frequency.
Get Rid of Those Pesky Undereye Circles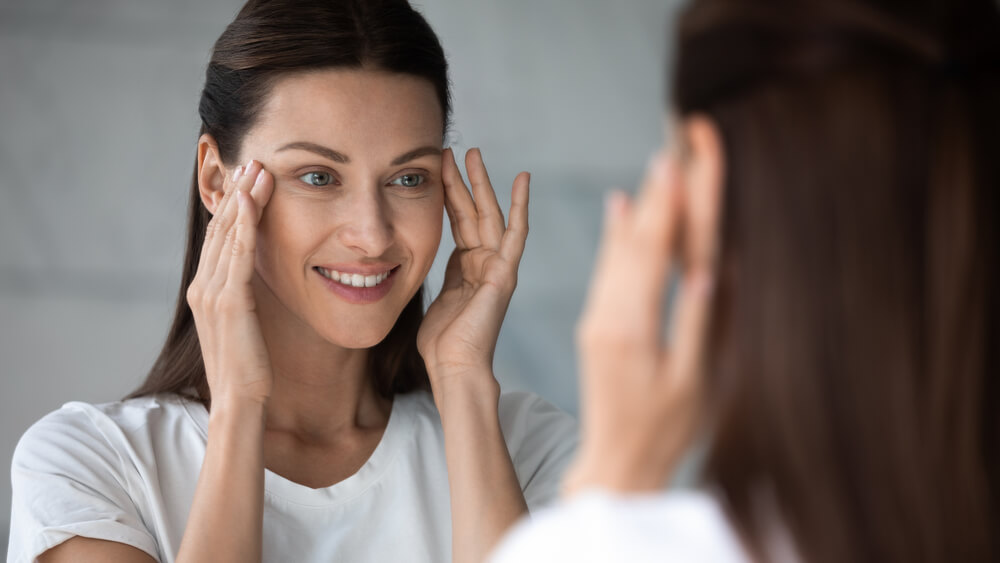 While the dark circles under your eyes are a symptom of insufficient sleep, the actual cause is the circulation network under the skin, just below the surface.
A small clinical study discovered that vitamin C strengthens the otherwise delicate skin under the eyes, reducing and preventing dark circles under the eyes.
Antioxidant properties of vitamin C cause skin to be more elastic and more resistant to bruising. This makes it effective at concealing blood vessels.
The presence of tocopherol acetate in the Lavelier vitamin C serum makes it great to layer on your delicate undereye skin. Tocopherol acetate is vitamin E. It can help lighten dark undereyes, which was confirmed by a study published in 2016.
The Lavelier Vitamin C Serum Will Even Out Your Skin Tone
Vitamin C is a fantastic brightening agent! It can fade dark spots without affecting your skin's natural pigmentation because it contains a skin-lightening property.
This property inhibits melanin production. Melanin causes skin discoloration, such as dark spots and hyperpigmentation. Sun exposure and environmental stress are the primary causes of hyperpigmentation. Hyperpigmentation, although harmless, can make you appear older.
If you use vitamin C consistently, it can help to prevent the formation of dark spots altogether.
In one experiment, it was discovered that vitamin C's antioxidant properties help to combat unwanted dark spots. They also reduce the appearance of skin aging resulting from sun damage.
Vitamin C is also helpful in inhibiting tyrosinase. This is an enzyme that contributes to melanin production. As a result, inhibiting it helps to keep the skin light and bright.
Vitamin C does not affect normal skin coloration. It only removes the effects of abnormal melanin deposits resulting from sun damage.
Another active ingredient in the Lavelier vitamin C serum that helps with hyperpigmentation is retinyl palmitate.
Retinyl palmitate is the mildest form of retinol that can keep your skin clear and youthful.
In addition to encouraging skin cell turnover, improving skin tone, and helping to unclog pores, the ingredient can also aid in the slowing of wrinkles.
On top of that, another hyperpigmentation buster is corallina officialis extract, found in all Lavelier products. It helps with the appearance of dull skin, uneven skin tone, and rough skin texture.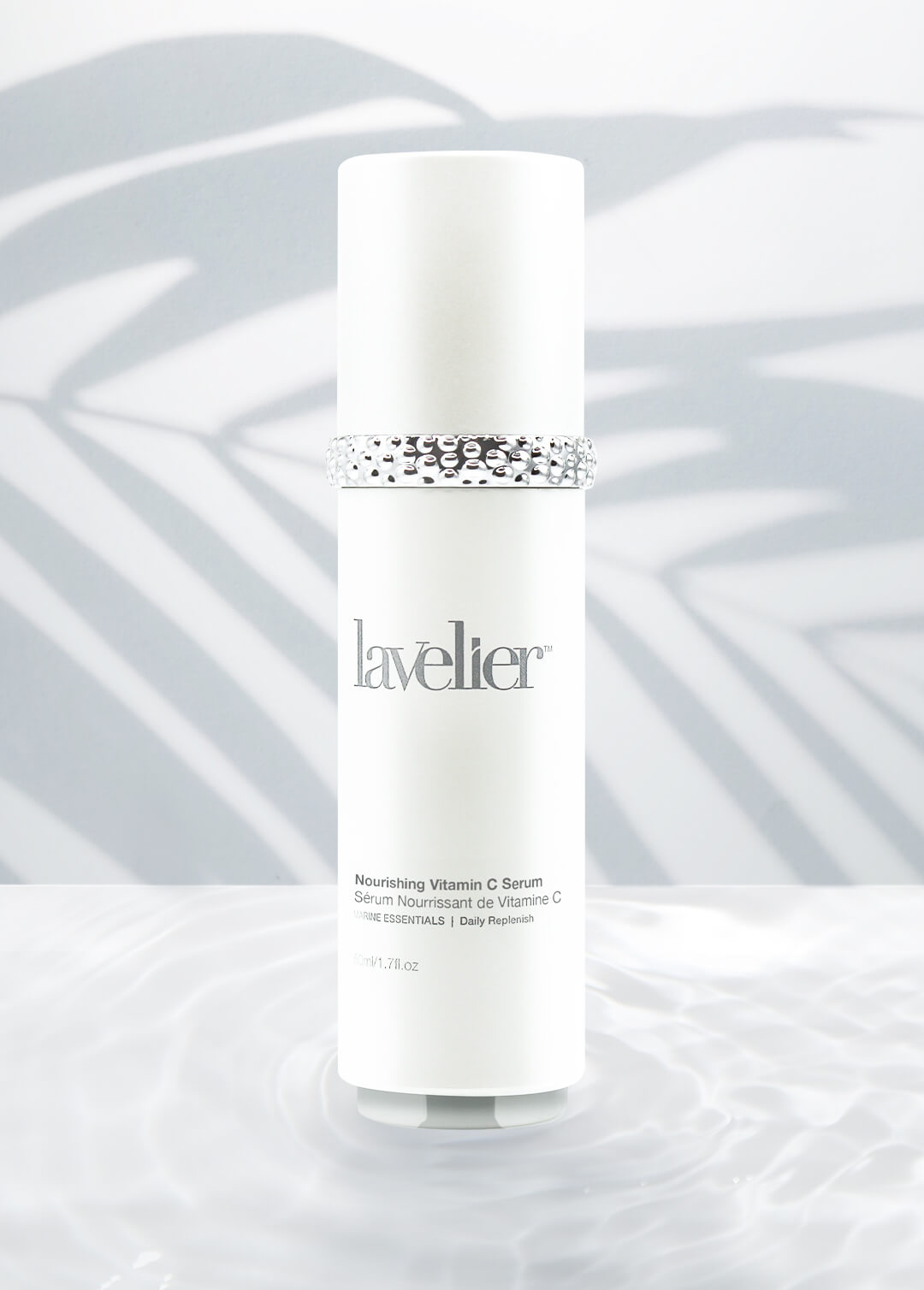 Vitamin C Boosts The Efficacy Of Your Sunscreen
Kim Chang, the aesthetician at Baylor Aesthetics Studio, also highlights how vitamin C has also been shown to help protect skin from sun damage.
L-ascorbic acid (also known as vitamin C) can protect you even further from the sun when paired with a sunscreen. In several studies, the use of sunscreen with vitamin C has been found to reduce the risks of skin photodamage caused by ultra-violet rays.
Sunscreens with an SPF higher than 50 provide no greater protection against the sun, says Chang. But using vitamin C can create a more protective barrier.
Damage caused by unstable electrons results in oxidative stress. This causes lines and wrinkles to form on the skin. This oxidative stress, which is also referred to as oxygen radical formation, is usually a result of environmental stressors. UV light would be one example. 
The antioxidant component of vitamin C protects the skin by fighting oxidative stress. This protects the skin from aging, helping it maintain a healthy, youthful appearance.
So, when's the best time to use your Lavelier vitamin C serum?
Dermatologists recommend using a vitamin C serum underneath a layer of sunscreen during the day.
Incorporating your Lavelier vitamin C serum with broad-spectrum sunscreens is more effective than using sunscreen to neutralize free radical damage caused by sun exposure. It is crucial to use sunscreens formulated with a topical antioxidant to optimize UV protection.
Looking For More Of That Vitamin C Goodness?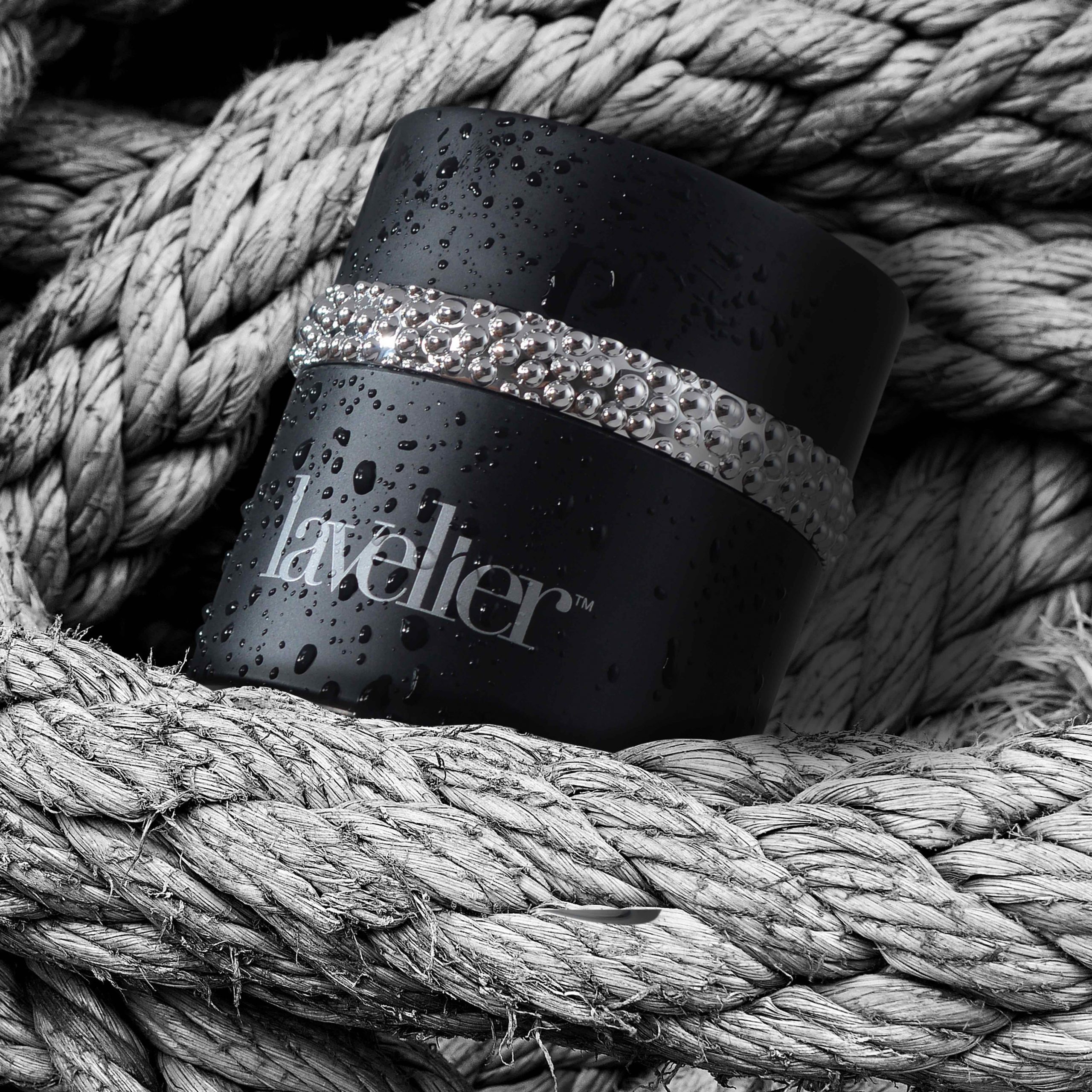 Lavelier also incorporates other ingredients that contain vitamin C into its products.
Lavelier HydroTherm Sauna Serum
The Lavelier HydroTherm Sauna Serum contains a unique blend of anti-aging vitamins and seaweed extract.
This product leaves skin soft and soothed by the heating effect of the product.
It contains 3-O-Ethyl Ascorbic Acid, a vitamin C derivative that is water-soluble and therefore stable, helping to synthesize collagen and reduce wrinkles.
The active ingredient in this product causes skin lightening, which makes it a popular skin cream and care product ingredient.
This compound is an ascorbic acid derivative. The skin metabolizes it into vitamin C. 
It protects the skin from the effects of sun exposure, wrinkles, sagging skin, and skin damage.
Coralline Collagen Boosting Masque
This luxuriously formulated Coralline Collagen Boosting Masque from Lavelier targets other visible signs of premature aging while additionally helping to enhance the look of elasticity in your skin.
You can obtain plump, firmer skin with a more youthful look and a lusher glow from this rich, moisturizing mask that features anti-aging marine botanical extracts, Soluble Collagen, and other potent ingredients.
This masque also is loaded with the goodness of aloe vera, which has a ton of enzymes, acids, and vitamins- especially vitamin C.
Aloe vera has many healing properties because it can help increase collagen synthesis in the skin. It is anti-inflammatory, too, making it such a useful and multipurpose ingredient in any skincare product.
Besides that, aloe vera can help moisturize the skin, as it contains mucopolysaccharides that assist in the binding of moisture to the skin.
In addition, aloe increases collagen and elastin fiber production. This contributes to skin elasticity and wrinkle reduction.
Seagrass Cymosilk Masque
The Lavelier Cymosilk Masque is loaded with Vitamin A and Acetyl Hexapeptide-8, is the ultimate anti-aging solution.
When you massage it into your skin, it will transform into water droplets, making your skin smoother and softer.
What's great about this product is that it contains goji berry extract.
Goji berries, a high-antioxidant powerhouse, are a significant source of vitamin C, minerals, amino acids, carotenoids, and polysaccharides.
This product contains many more berry extracts, like bilberry, acai, noni, and even maqui, which are chock-full of antioxidants, the perfect buffet for you to attain the skin of your dreams. Use it regularly for best results. 
Lavelier Marine Evening Repair Cream
The Lavalier Marine Repair Cream is a gentle night cream that can help you rediscover beauty sleep. 
The key players in this formula are Shea Butter and Coral Seaweed extract. Both of these nourishing ingredients firm and plump the skin while also retaining moisture. This results in skin that looks radiant and beautiful in the morning.
Enriched with sunflower seed oil, it contains vitamin E, an antioxidant that helps protect cells from damage.
Additionally, it is rich in vitamins A, K, D, and most importantly, C, which assists in defending the body from environmental stressors that can accelerate the aging process.
Summary
Ultimately, dermatologists all over nod in agreement to the incredible benefits of vitamin C, a potent antioxidant that offers protection against signs of aging.
Some important things to note are that you should steer clear of it by avoiding products containing benzoyl peroxide, which quickly oxidizes vitamin C, making it useless. Additionally, it should not be used with other acids, which may result in excessive skin irritation.
If you're looking for that glowy complexion, you can definitely count on Lavelier to give you premium skincare that works like a charm!