A new broom sweeps clean; well, maybe. The cosmetic industry evolves daily, and it seems the more modern the wave of products, the better. With people being more health-conscious nowadays, there is a high affinity for naturally organic beauty products.
Makeup has not been left behind either; the thought that mineral makeup is organic has triggered a preference for the same. People with sensitive, problematic skin have been caught up in the wave with the hope of remedying their skin conditions. New products, on the other hand, exhilarate beauty enthusiasts with the possibility of a perfect skin tone.
As you'll learn though, mineral technology is a comeback from ancient cultures. The question to ask yourself however is; is mineral makeup better for your skin? Here are necessary facts to get acquainted with before you join the mineral cosmetic bandwagon.
What is Mineral Makeup?
Mineral makeup is any makeup whose entire components are pure compressed minerals. The minerals are micronized up to 12 times to produce fine powders that are easy to seat on and cover the skin.
Unlike the traditional makeup that is chemical-laden, the uniqueness of mineral makeup lies in the lack of waxes, fragrances, emollient oils, and preservatives- the main culprits of skin irritation in conventional makeup.
The Main Ingredients in Mineral Makeup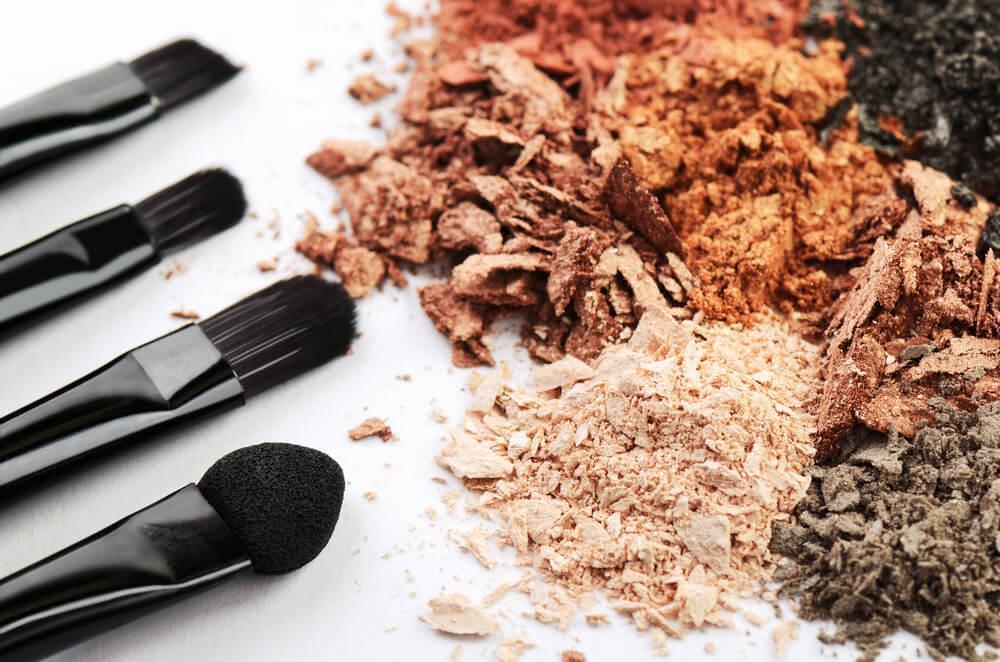 There are five main ingredients in mineral makeup. These are;
1) Iron oxide
Naturally, Iron oxides exist in volcanic magma, loadstones, etc 
Features:
Water resistant and stable– so it does not smudge.
Mild to the skin– doesn't cause allergic reactions and is non-toxic.
Offers fantastic colors when mixed with other natural compounds like titanium dioxide. The colors determine the different shades of the same products. The shades more often than not match any desired complexion.
2) Titanium Dioxide
Titanium's shine and resistance to corrosion make it best for use in mineral makeup.
Features:
It attracts, scatters and reflects light, thus it's used as a sunscreen for protecting the skin against ultraviolet rays.

It's also used as a foundation since it's attractive, to give your skin the sheen it requires.

As a soft mineral, it makes an excellent concealer and creates fair complexion by fading out spots, blemishes, and rosacea.

You can mix Iron Oxide and titanium dioxide to make colorants.
3) Zinc Oxide
Features:
It is gentle and harmless to most skin types hence used as a binder, for coloring and for mineral makeup preservation.

Has a calming effect on irritated skin hence used in combating sunburns and windburns.

Can coat other products, therefore used in powders and foundations to create adherence and ease layers build up.
4) Mica
Mica is a shiny, transparent mineral used in the production of bright matte sheen for use on your skin.
Features:
Has a silky nature and exists as a powder which is the base for foundations and shadows.

It produces a beautiful colorant, when mixed with Titanium and Zinc oxide

Hypoallergenic and non-comedogenic thus you can use it to calm erythema
5) Kaolin or China Clay
Kaolin is specially formulated clay for use on oily skin to reduce the shine.
Features:
Has excellent absorption power hence used in mineral makeup to manage and hide skin imperfections.
Has great concealing effects; you can use it for concealing wrinkles and fine lines.
Has wonderful skin healing and protection properties – rest easy while you use Kaolin clay, for it will lessen rosacea and shield your skin from sunburns. This is why Kaolin is one of the star ingredients in the Lavelier HydroTherm Intense Masque. 
What Makes Mineral Makeup Better than Synthetic Makeup?
Mineral makeup is made better by the absence of harmful ingredients that are known to breed health problems other than the perfection they promise.
For purposes of validating the efficacy of mineral makeup, scientific studies have centered on the effects of synthetic makeup.
A study was made to prove that cosmetics are the most significant mineral oil contaminants in women. The study involved 142 women experiencing elective caesarean.
Before closing their wounds, samples of subcutaneous fats were collected. The scientists collected milk samples on the fourth and twentieth-day post-delivery. The women also filled in questionnaires. The questionnaires collected personal data such as nutritional practices and cosmetic use.
A mineral oil saturated hydrocarbons (MOSH) analysis was also carried out. It was discovered that women who used lipsticks, hand creams, and sunscreens, had the highest contamination levels. The researchers agreed that cosmetics use is the largest source of mineral oil contamination.
Phthalates is a plastic component whose main use is in cosmetics and personal care products. The forms of phthalates are dibutyl phthalate, diethyl phthalate and dimethyl phthalate. These chemicals are present in nail polish, perfumes and lotions, and in hairsprays respectively.
After series of tests and studies, Centers for Disease Control and Prevention (CDC) reported that exposure to phthalates which is a developmental toxicant contributes to male reproductive problems such as DNA damage in sperms and undescended testicles.
A published report by the Harvard School of Public Health in July 2003, further gave credibility to the findings by stating that high levels of phthalates seemingly explained the emergence of such complications. Most consumers make uninformed decisions since phthalates miss on the labels as one of the makeup ingredients.
Ingredients to Look Out For
It fails to be mineral makeup if it has any of the following products, most of which are the active components in traditional make-up.
Bismuth Oxychloride: Bismuth Oxychloride is a synthetic chemical assumed to cure acne and rosacea. Instead of healing the said condition, the chemical may cause enlarged pores and aggravate the rosacea further
FDC Lakes and Dyes- are you thinking of dying your hair? Lakes are insoluble compounds made by combining dyes and salts. Research has found the toxic residues of the harmful, insoluble compound in the human brain.
Parabens: These are commonly used preservatives in the chemical-laden makeups. Their efficacy is in mimicking estrogen. Externally, synthetic estrogen not only causes hormonal imbalance but also associates with breast cancer.
Propylene Glycol (PG) and ethylene glycol (EG): PG and EG make up a deadly combination derived from petroleum. Apart from wetting and acting as solvents in makeup, they penetrate the depth of your skin and into the bloodstream. Upon distribution, it weakens your cell structure and introduces you to brain, kidney and liver complications.
Continued use and exposure to PG and E also causes gastrointestinal bloating, nausea, dermatitis, vomiting, skin dehydration, skin corrosion, etc.
Makeup should complement your skin, but not be a cause of health concerns.
Sodium Lauryl Sulfate: SLS is a cheap, harsh, synthetic chemical used in the production of soaps and detergents. SLS is associated with skin irritation, denaturing of cells, and infertility in males and hormonal imbalance in women.
Talc: Talc has striking similarities with carcinogenic asbestos. Research has proved its presence in the lungs and ovaries of cancer patients. Testing of talc on animals has also

resulted in tumors

.
The Benefits of Mineral Makeup
Since its inception in the ancient cultures, and the commercialization by Diane Ranger in the 70s mineral makeup has gained massive popularity. The popularity is especially true in people with sensitive skin.  Here are the reasons why:
1) Calms Acne Inflammation 
Does mineral makeup cure acne? Sadly, it doesn't. Pimples formation is a genetic function or one caused by hormonal imbalance, among other causes. The soothing Zinc oxide will however calm inflammation.
Unlike in chemical makeup, lack of filler in zinc oxide will also reduce chances of clogging pores which flares up acne. For acne treatment therefore, visit a certified dermatologist for proper medication.
2) Protects the Skin from UV Rays
Zinc oxide and titanium oxide are a powerful combination. They help in protecting the skin from sun damage and work as sunscreen respectively. The two have Food and Drugs Administration (FDA) approval.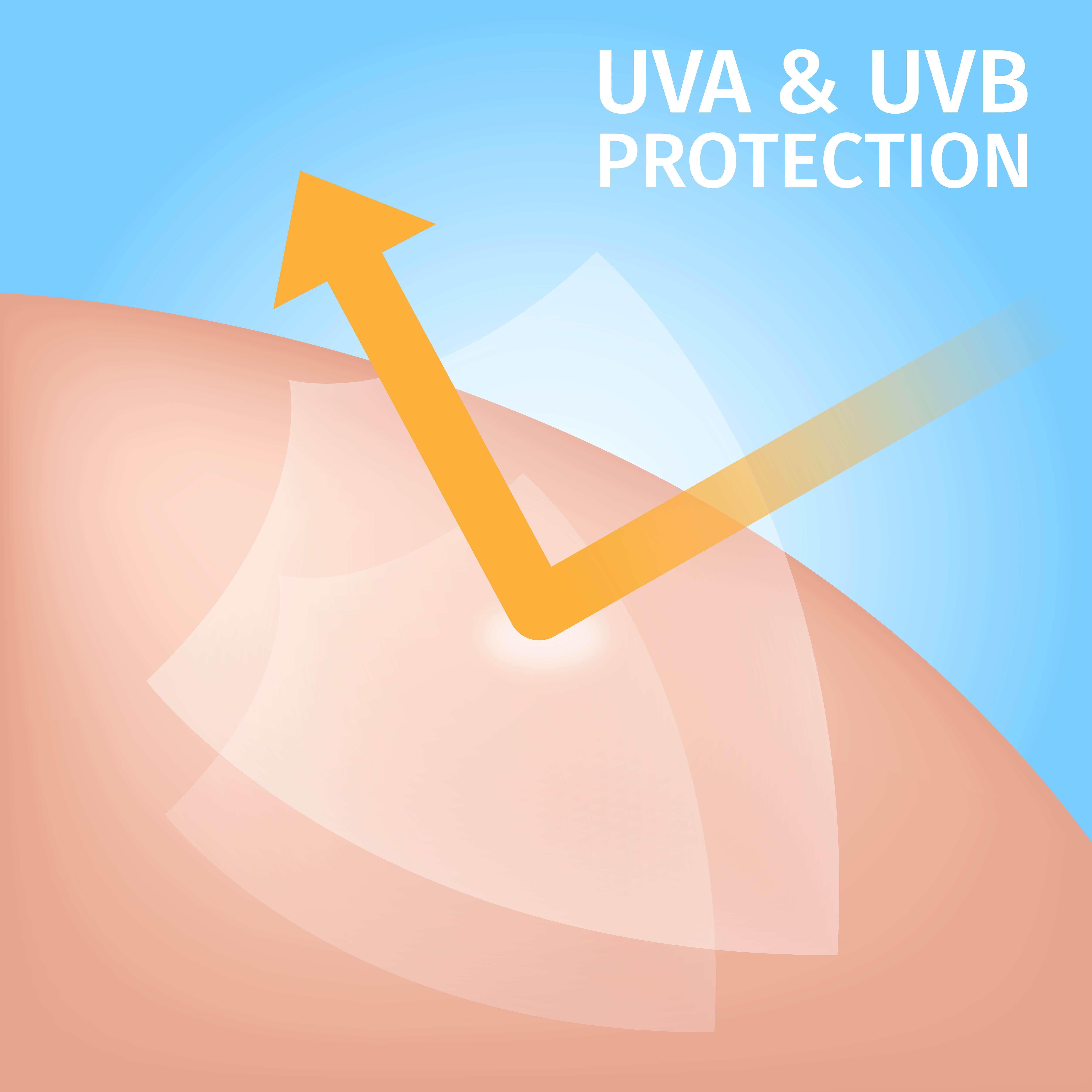 The underside is that you never will have total protection from the sun's ultraviolet rays. At least not with the mineral makeup, their SPF content does just a little. To be on the safe side, you need a SPF of at least 30.
The amount of powder you should apply for full protection is hard to determine. To get the most out of the sunscreen, make sure to dust a layer of SPF mineral powder before dashing out of the house.
3) Safe for Use
Whether you are using it for acne, dermatitis, or rosacea, one sure thing is that mineral makeup is safe since it's bacteria-free, and contains inert ingredients. Use of liquid preservatives in conventional cosmetics may lead to bacteria buildup and especially upon expiration. This may lead to skin break outs.
4) Offers a Variety of Colors
Minerals are rich in versatile pigments. A combination of the individual ingredients gives rise to a variation of safe colors. You can use the variety of colors to dye your hair, as a lip color, blush, eyeliner or eye shadow.
5) No Irritation
Can minerals irritate the skin? Besides being mild on all skin types, mineral makeup is known to contain fewer ingredients. Less ingredients therefore means less chances of skin irritation, as is the case with synthetic makeup.
What are the Limitations of Mineral Makeup?
Does mineral makeup measure up to the all the hype?  While the organic ingredients have so much to offer, there are a few limitations to their use.
Despite being an excellent anti-inflammation remedy, there lacks proof of how much zinc oxide and Iron oxide you should use to achieve the coveted results.
Organic cosmetics lack standard cosmetic products used in traditional makeup like binders and sticky-to-skin agents. The lack thereof renders mineral makeup not-so-durable. You are, therefore, required to apply frequently.
Some makeup companies are adding

Bismuth Oxychloride

to the mineral makeup. If you use such products, you'll suffer acne break-outs and skin irritation.
Buying Mineral Makeup
For you to achieve an impeccable, professional finish with mineral makeup, you must shop for products that match your skin.
Start by performing a foundation test. From the makeup tester in the store, apply a little to your jawline. Choose one that gives your skin a perfect match.
Is yours a problematic skin? You need a concealer to hide the blemishes. The green enhancer is best for neutralizing reddening skin while yellow hides dark under-eye circles best. Buy a concealer brush too.
To even out complexion, buy a mineral veil also called setting powder. The powder adds shimmer to your look.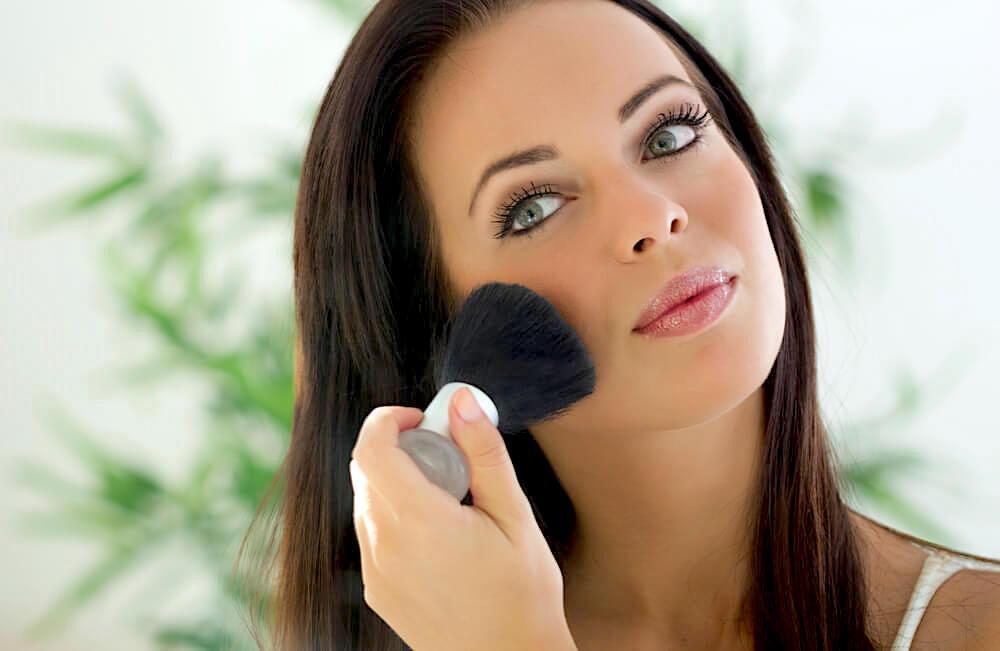 Mineral makeup application is an art like any other. You therefore need brushes. Buy three types of blushes; the concealer brush, the broad kabuki brush and the buffer brush for blending the makeup. Applying your makeup with anything short of the brush will give it a lousy finish.
Invest in a starter kit. In a starters pack, you will find all the mineral products and brushes for application. A DVD will be there to guide you in the starting. Walk into a pharmacy or affluent departmental store to find the kit.
How to Apply Mineral Makeup
Follow the following steps for great results;
Step 1: Apply a non-mineral, non-comedogenic moisturizer and let it absorb into your skin for 10 minutes. The Lavelier Divine Day Defense SPF 30 is a great option, as this gives you sun protection too! 
Step 2: With a concealer brush, dab the enhancer to hide imperfections on the skin.
Step 3: To avoid wastage, in the jar cap, put a little powder. Apply your powder from the jar, if any of it sprinkles use Kabuki brush to collect it.
Step 4: Buff the foundation on your face in a circular motion. Start from the cheeks outwards. Give the foundations a few minutes for a natural look.
Step 5:  Lastly, apply the setting powder to the skin. Setting powder prevents smudging caused by excessive sebum secretion. Apply like the foundation. Finish making up by blending with your buffer brush.
Is mineral makeup better for your skin? Indeed it is! Mineral makeup will shield your skin from the harm that comes with conventional makeup. However, be keen to establish if you have the right ingredients in every pack. Invest in an excellent non-mineral, non-comedogenic, moisturizer because in its range, organic makeup lacks a moisturizer and anti-aging serums.