Here at Lavelier, we love using unique, out-of-the-box ingredients in our formulas. From juicy, exotic, vitamin-rich berries to unique sea minerals you never imagined could be in your skincare, we try our best to wow you and your skin with cutting-edge ingredients.
One of our favorite superfoods to use in our formulas is blue algae. Now, seaweed isn't the new kid on the block anymore in the skincare industry — tons of brands swear by it already! But blue algae in particular is one of the best types of seaweed for the skin, and it deserves the spotlight.
Blue algae has a plethora of skin benefits, from preventing the appearance of wrinkles and fine lines to adding more hydration back into skin that looks dull and tired. We at Lavelier trust this sea ingredient so much that we've used it as the star ingredient in our Blue Algae Beauty Skincare Duo, a set of two products designed to restore and rejuvenate the appearance of your skin.
But before we get into that, let's first learn more about blue algae, the superfood your skin never knew it needed.
What is Blue Algae in the First Place?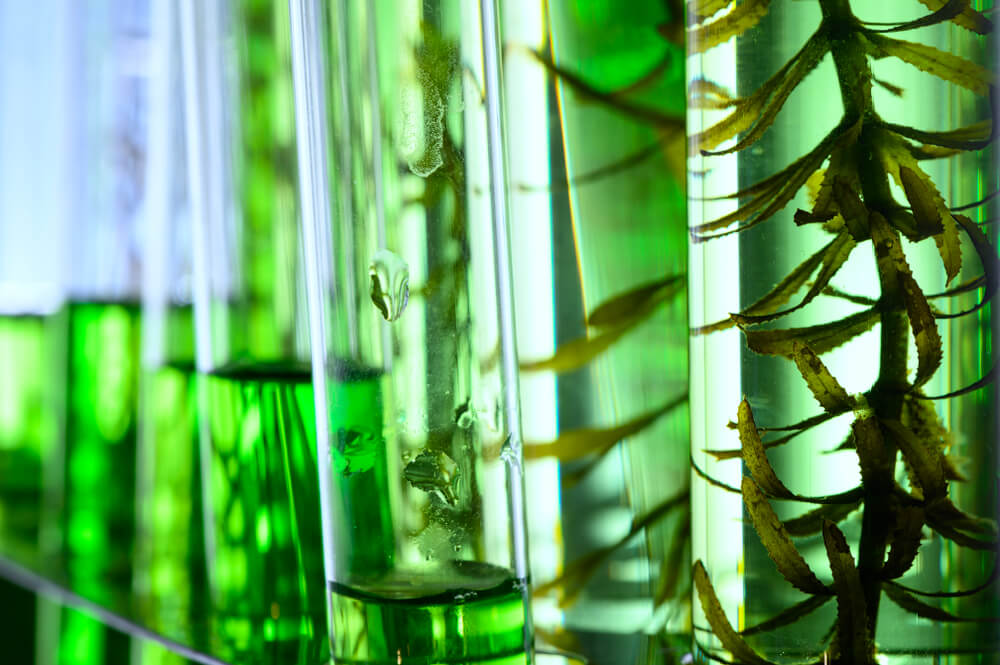 If blue algae sounds a bit unfamiliar to you, you might know it better as "spirulina". Spirulina is a cyanobacteria (often called blue-green or blue algae) that is an immensely popular supplement in health and beauty today. You might even know it from your favorite protein shake stand's menu as an add-on!
Blue algae is often ingested through supplements and even seafood. However, it can also be applied topically when it's infused in opulent creams and moisturizers to brighten and improve the look of the skin. It's not usually an irritating ingredient, so it's terrific on all skin types.
The reason blue algae or spirulina is popular for inside and outside the body is because it's packed with vitamins and other key nutrients. It's rich in amino acids, omega fatty acids, vitamin B, and minerals like iron and copper. Your skin needs these to look healthy, smooth, and glowy.
You'll also find plenty of antioxidants in blue algae, one of the most active of which is phycocyanin. This blue-green antioxidant is what gives the algae the color it's known for. 
But everything we've said so far is just scratching the surface of what blue algae has to offer your skin. Let's get down to the nitty-gritty and have a closer look at all its wonderful skin benefits.
It Deeply Hydrates Uber-Dry Skin
The first thing blue algae does well is hydrate the skin. This type of seaweed is actually a humectant, giving it moisture-binding properties. Some say it's an even better humectant than hyaluronic acid, arguably the most popular humectant out there.
Blue algae is also sometimes used in skincare products to thicken up creams and emulsions. It makes them velvety smooth to apply. 
So, if you have extremely dry/dehydrated skin or even just normal skin but are dreading the wintertime, blue algae can work magnificently for you. It hydrates the skin deeply, leaving it feeling plump and smooth, never tight and rough.
It Reduces the Look of Redness and Inflammation, Which is Great for Sensitive Skin
Blue algae also has properties that quickly soothe the look of the skin when it's not feeling at its best. That makes it a must for those with acne-prone skin. Remember, zits and pimples are forms of inflammation and wounds. Blue algae can help to keep your skin looking and feeling calm and clear.
It's also incredibly helpful for those who have delicate skin conditions, like eczema and psoriasis, that are frustrating to treat. People with frequent flare-ups because of these conditions often need gentle formulations in their routine. Not only is blue algae non-irritating, but it also helps soothe the feeling of itching from these skin conditions.
It Delays the Onset of the Visible Signs of Skin Aging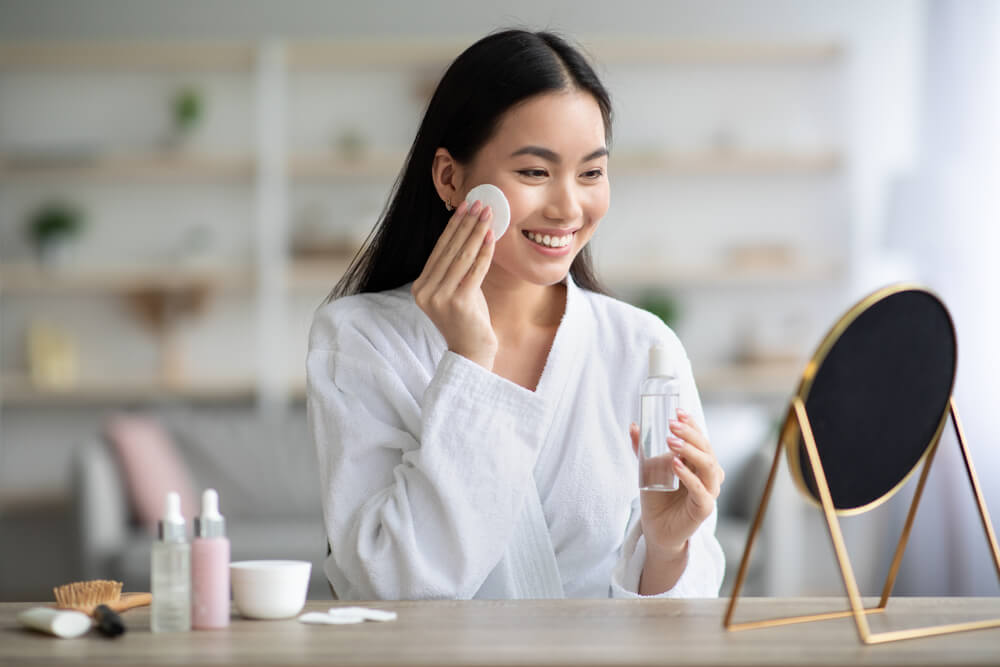 Blue algae is rich in antioxidants that can help extend the youthful, radiant look of your skin.
Blue algae doesn't just prevent damage to your skin either. It also helps to minimize the appearance of the fine lines and wrinkles that have already creased their way across your skin. The result? A face that looks decades younger.
It Helps Fade the Visibility of Dark Spots
Struggling with hyperpigmentation is one of the most frustrating skin concerns ever. Most of the time, it can take months before it finally disappears.
But did you know that using blue algae in your skincare routine can actually help you achieve clear-looking skin faster? One of algae's most popular benefits for the skin is it fades the appearance of dark spots and discoloration quickly.
This is terrific news for those with spotty, sensitive skin that can't handle harsh, acidic actives that lighten the look of the skin, like vitamin C or glycolic acid. Those are quite notorious for being too strong for some skin types. But blue algae is gentler while still being effective at making your skin look blemish-free.
Incorporate Blue Algae Into Your Skincare Routine with These Two Products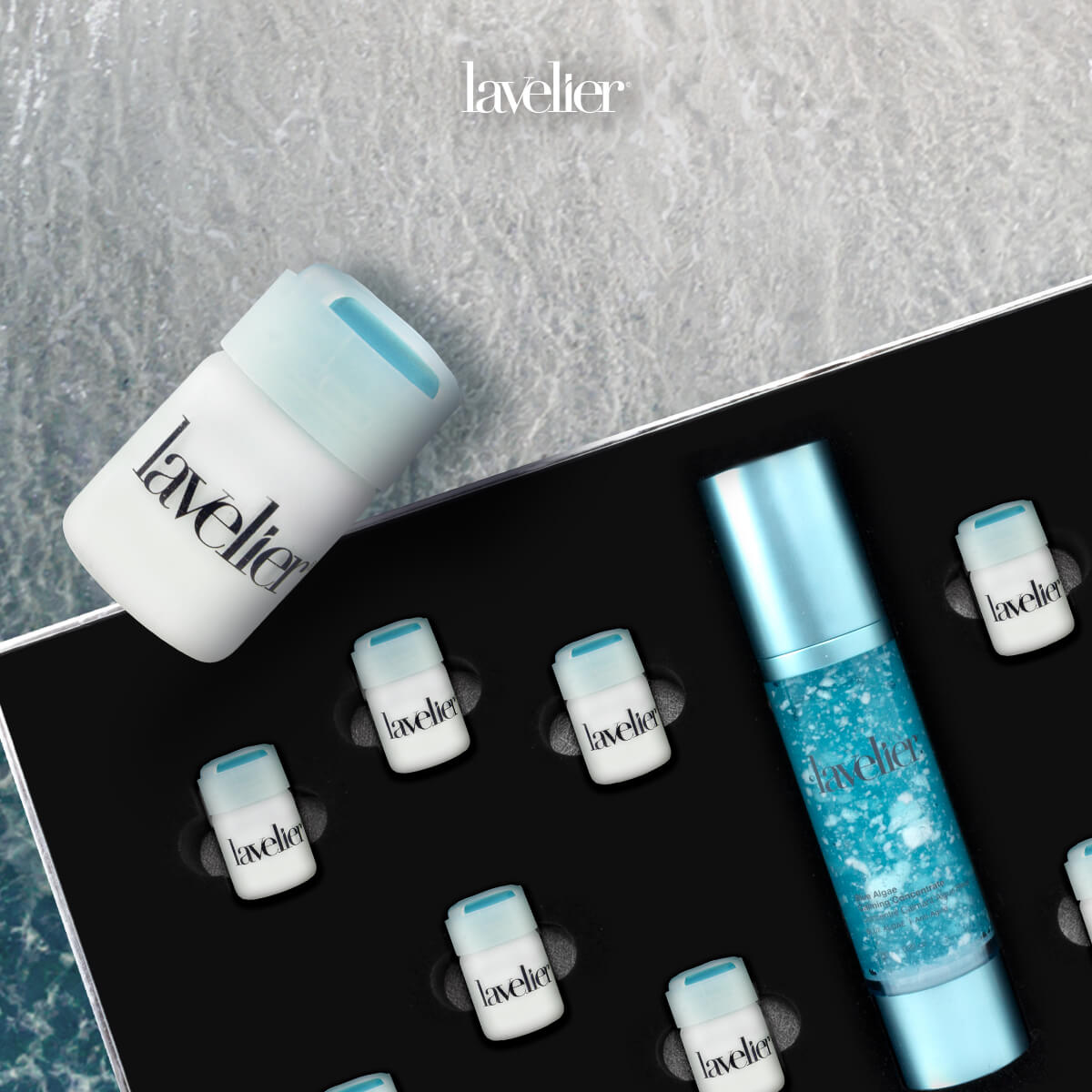 Now that you know all the tremendous benefits of blue algae, you may be wondering how to incorporate it once and for all into your skincare routine. Well, Lavelier has just the set for you.
The Blue Algae Beauty Skincare Duo consists of two products that have blue algae front and center. One is a regenerating powder, and the other is a serum-like concentrate. Used together, your skin will be left feeling smooth and silky.
You'll use the Blue Algae Regenerating Powder first to refresh your skin and prep it for the potent ingredients in the Blue Algae Calming Concentrate. This is a serum that transforms the look of your skin from rough and dehydrated to smooth and silky-soft.
In both products, you'll see blue algae listed as Aphanizomenon Flos-Aquae in the ingredient list. This works together with many other skin-loving actives and antioxidants to pamper your complexion.
This blue algae duo is meant to be used just once a week. And since there are only two steps, it's never a hassle to use. Here's how you use the duo, and the ingredients each step has to offer.
Step One: Protect Your Skin with the Blue Algae Regenerating Powder
The first product is the Blue Algae Regenerating Powder, a fun and unique powder-to-liquid formula that helps strengthen and soothe the feel of your skin simultaneously. 
One of the key ingredients in this formula other than blue algae is resveratrol. This is an antioxidant that's usually found in grapes and dark chocolates. 
Another ingredient this powder boasts is niacinamide, a form of vitamin B. This water-soluble vitamin is another knock-out that does it all, from brightening the look of dark spots to keeping the visible signs of aging at bay. 
To use this powder, just pour out a small amount on your palms. Rub your hands together so that the warmth turns the powder into a liquid. Apply this carefully on your face with your fingers, making sure to distribute it across your face evenly.
Step Two: Leave a Silky, Glowy Finish with the Blue Algae Calming Concentrate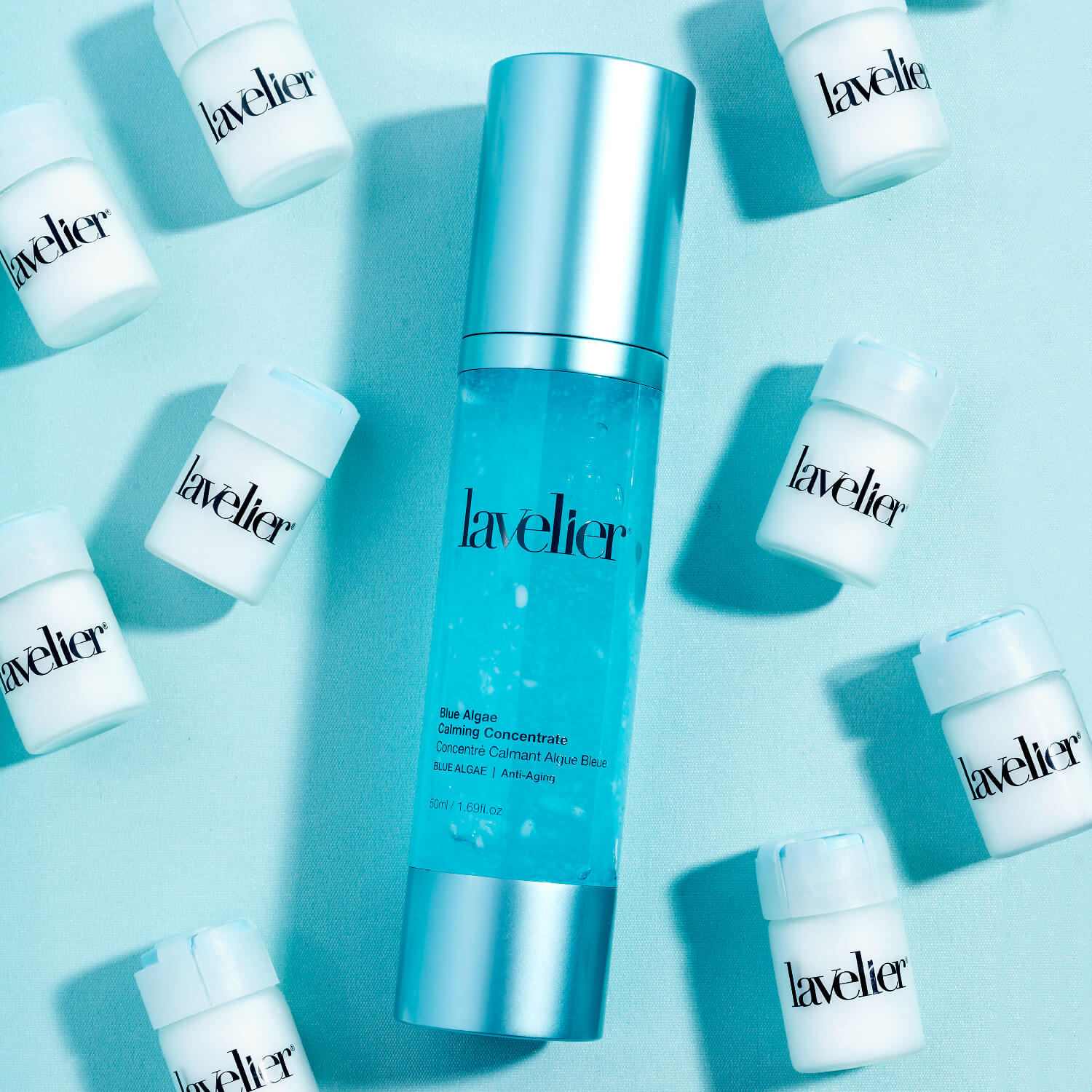 The next and last step is to apply the Blue Algae Calming Concentrate. This is a silky serum that leaves skin feeling smooth and looking dewy.
This formula contains ultra-hydrating humectants, like aloe vera, sodium hyaluronate, and glycerin, to suck up moisture from the environment into your skin. It also has emollients, like shea butter and jojoba oil, to lock in all that hydration. It'll keep your skin looking plump and supple for longer.
But one of its star ingredients is centella asiatica. This is an ingredient that is growing in popularity thanks to its prevalence in the Asian skincare world. Centella asiatica is a plant extract that is known for soothing the look of inflamed skin. This makes it perfect for those with acne-prone and problematic skin types. 
To use this concentrate, take two pumps of it into your fingertips. Massage the serum all over your face, making sure to tap the product into your skin to help it absorb better. You'll immediately feel refreshed and more hydrated than you did before.
Conclusion
If blue algae still isn't part of your skincare regimen, take this as a sign to incorporate it into your routine today. 
Not only is the Lavelier Blue Algae Beauty Skincare Duo a convenient addition to your current routine with just two steps, but it's a luxurious treat for your skin. You get innovation, effectiveness, and the experience of using a unique sea ingredient all in one set!
Check out more seaweed-infused skincare formulas from Lavelier here.