Adequate hydration is a must for healthy-looking skin. Without this, it doesn't take long for the skin to become dehydrated and dry, which can then lead to flaking, peeling, itching, and a whole host of other skin problems.
What are the best ways to rehydrate dry skin on face? Read on – Lavelier is about to talk you through everything that you need to know.
What Causes Dry Skin on Face in the First Place?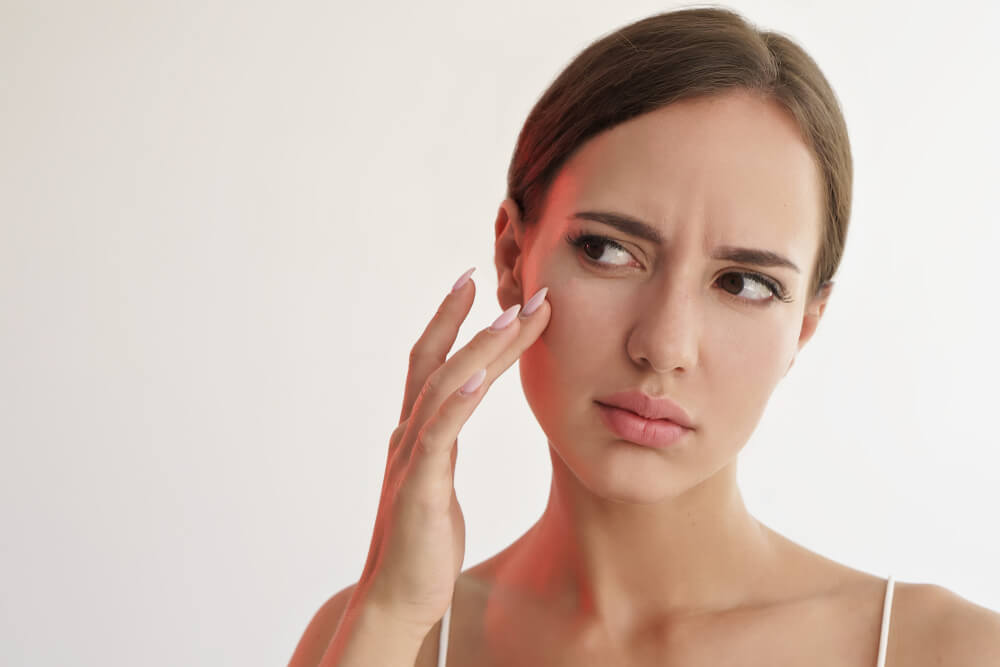 The outer layer of your skin consists of a lipid barrier. Not only does this prevent your skin from coming into contact with environmental aggressors, but it also traps moisture in by blocking evaporation. 
Unfortunately, there is so much out there that can damage the structure and integrity of this protective barrier. From hot water to alcohol consumption to sun damage, all of these factors can chip away at the skin's outer layer, causing it to crack and break.
Once this happens, dry skin on face isn't the only problem you'll be dealing with. Your skin will also be more susceptible to environmental damage as pathogens and other impurities will be able to easily make their way into the deeper layers of your skin through all of those surface cracks.
How do you put a stop to this? By rehydrating your skin and strengthening the feel of your skin's protective barrier, so that moisture retention improves. There are several ways in which you can do this, but let's take a look at some of the most effective:
Use Rich Face Creams
X
One of the best ways to relieve the feeling of dry skin on face is to start using richer face creams. That said, thickness isn't the only thing to look for when searching for a hydrating moisturizer. Ideally, the cream that you pick should contain ingredients from all three of these groups:
Humectants – these are ingredients with moisture-binding properties. They help to increase the skin's moisture content, leaving it looking plump and dewy
Emollients – these ingredients fill in the tiny cracks and gaps in dry skin. As a result, they help to support and strengthen the feel of the skin's barrier
Occlusives – these form a physical layer over the surface of the skin. To some extent, they mimic the function of the skin barrier by preventing moisture from evaporating away
One face cream that contains all three is the Lavelier Marine Deep Moisturizer. This formula is ideal for moisturizing dry skin on face. It's rich and velvety yet it soaks into the skin quickly, without leaving a greasy residue behind. 
Moisturize While Your Skin is Still Damp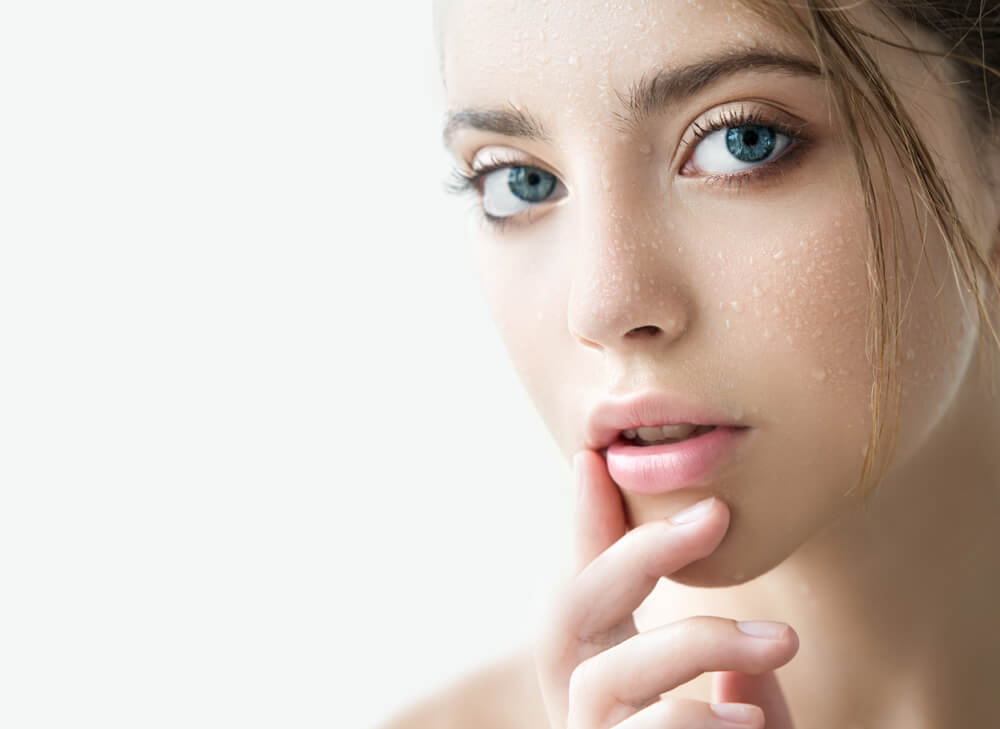 While we're on the topic of moisturizers…
It's not only what you apply to your skin that can help to rehydrate it, but also how you apply it. Sure, a moisturizer will still work well when applied onto dry skin, but slather it onto damp skin and the results will be even more impressive.
Why? Because, as mentioned earlier, a good moisturizer will contain occlusive ingredients that form a seal over the skin's surface. If you apply this onto skin that's damp, meaning that it already has water molecules sitting on its surface, then your moisturizer will lock all of these in. Instead of that extra water evaporating away, your moisturizer will push all of those water molecules into your skin. This will give you an added moisture boost.
Add a Hydrating Serum to Your Skincare Routine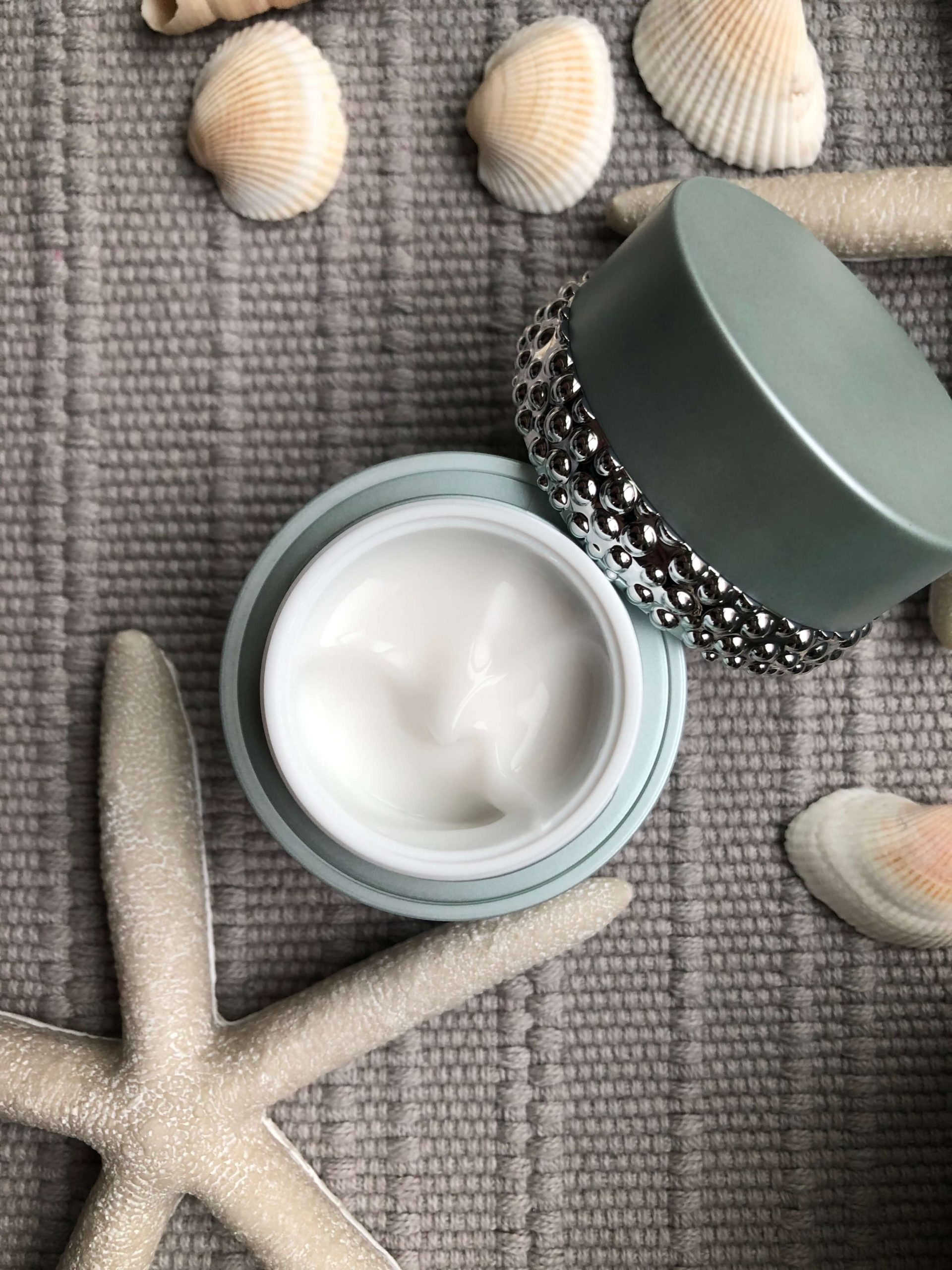 Moisturizers often tend to be the main focus when it comes to hydrating dry skin on face. However, serums can help with this in a big way too.
Serums are much lighter in texture than face creams. This is because they don't contain the same heavy emollient and occlusive ingredients. However, many serum formulas still offer lightweight versions of these compounds, along with plenty of weightless humectants. Since they're not as thick, serums are able to dive deep down into the skin to provide hydration to the layers that a moisturizer can't reach. 
The Lavelier Seagrass Phyto Silk is the perfect example. It's brimming with moisture-binding humectants, including glycerin, algae extract, sodium hyaluronate, and coral seaweed extract. It also contains vitamins A and E. Both are powerful antioxidants that will thicken the feel of your skin's protective barrier, therefore boosting hydration in the long run.
Use a Gentle Cleanser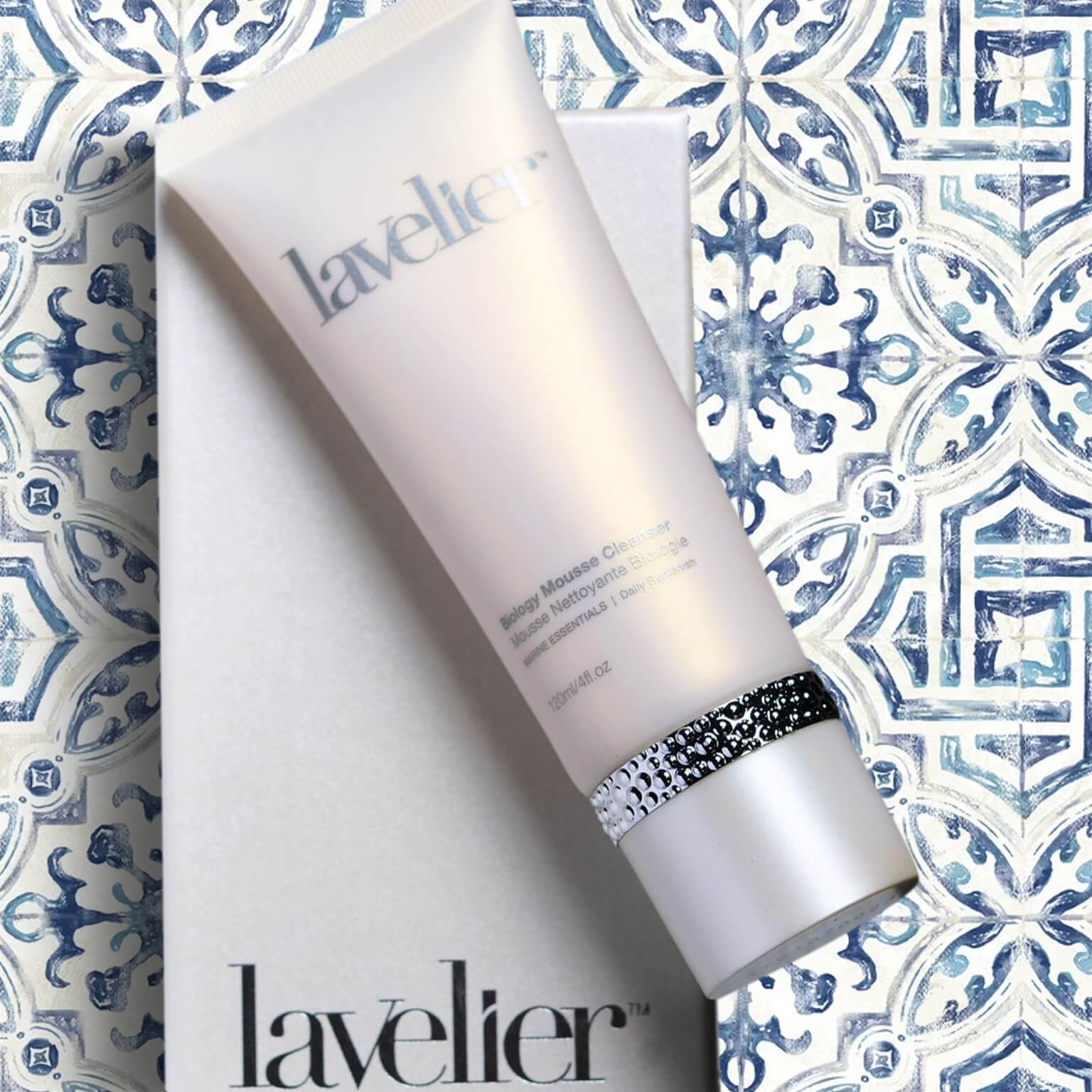 Daily cleansing is essential for healthy-looking skin. However, it's a sad fact that many of the cleansers on the market contain harsh surfactants that damage and strip away the skin's protective barrier. This results in dry skin on face, which is only exacerbated with continued use of said cleanser.
So, one way to leave your skin barrier feeling more supported, and therefore boost skin hydration, is to switch to a gentler cleanser. Look for one that contains plant-derived surfactants, like Lavelier's Biology Mousse Cleanser. 
It's so much kinder to the skin than many of the other cleansers out there. It has also been infused with a number of hydrating ingredients, which many other cleansers lack. From argan oil to coral seaweed extract to aloe vera leaf extract, this product will leave any dry skin on face looking much softer and smoother post-cleanse.
Always Apply a Toner After Cleansing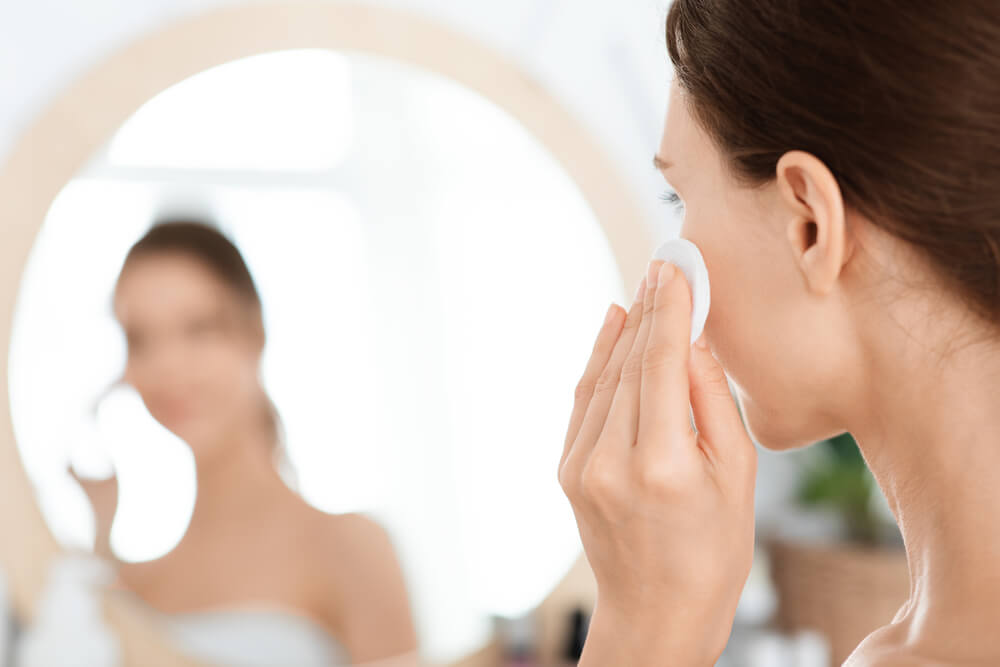 Although toning may not be as crucial a skincare step as cleansing, it's definitely worth doing if you have dry skin on face. 
A toner performs a few different roles. For starters, it helps to rebalance the complexion after cleansing, preventing the skin's pH from feeling out of whack. It also prepares the skin for the rest of your skincare routine, so that your skin is ready to drink up all of the other beneficial ingredients that you're about to apply.
Most importantly, toning is also a fantastic way to inject some moisture into your skin. Most toners contain hydrating natural ingredients that will refresh and rejuvenate your complexion. Since they're applied directly after cleansing, all of those hydrating compounds will be able to work their way into your skin cells uninhibited.
Exfoliate With a Face Peel
X
The skin is constantly creating new skin cells. As it does so, these push the older cells toward the surface of the skin, where they die off and are naturally shed. It's a process known as cell turnover.
However, with age, cell turnover declines. This means that more and more dead skin cells build up on the surface of the skin. These cells have a noticeably rough and dry appearance, which then leads to a dry-looking complexion. They also block hydrating skincare products from penetrating down into your fresh new skin cells, leaving the skin even drier.
The best way to counter this is by regularly exfoliating. Of course, you don't want to use an overly harsh exfoliant since this could cause even more harm to your already-damaged protective barrier. 
So, reach for an exfoliating peel instead, like Lavelier's Intensive Facial Peel. It combines elements of both physical and chemical exfoliation, bringing you the benefits of each without any of the drying downsides. Between mandelic acid and bamboo powder working together to get rid of dead cells, and coral seaweed to provide hydration, this peel will leave dry skin on face looking soft and supple.
Use a Hydrating Face Mask Once a Week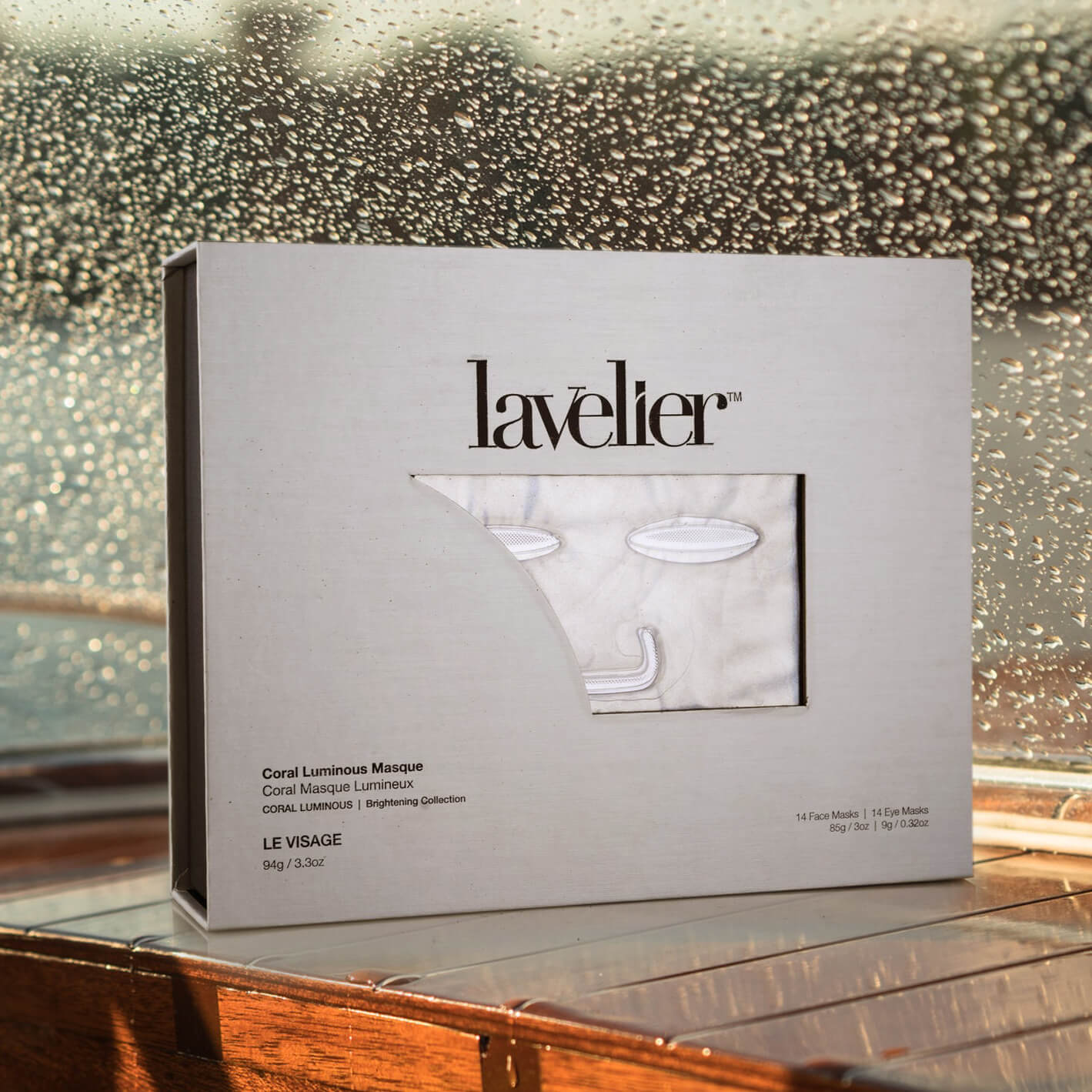 Face masks are a great way to add a boost of hydration to your skin. Designed to be used weekly (or monthly, depending on the formula), masks contain high concentrations of active ingredients. Look for a mask designed to hydrate the skin, such as Lavelier's Coral Luminous Masque, and you should notice a difference in your complexion immediately after masking.
Made from hydrophilic gel, this mask is brimming with marine botanicals and a thirst-quenching selection of humectants. Each box contains 14 face masks and 14 eye masks. Use them monthly, while also saving a couple for special occasions, and you'll be set for the year!
If the dry skin on your face is quite severe, then we'd recommend looking into the Lavelier Seagrass Cymosilk Masque too. This is a leave-on mask, which is perfect for tackling the appearance of dryness. Not only will your skin quickly drink up all of its hydrating ingredients, which include the likes of sodium hyaluronate and squalane, but the mask's high antioxidant content will also help to reduce the appearance of fine lines and wrinkles while brightening your complexion.
Keep Your Skin Protected From the Sun
X
The sun's UV rays damage the skin in so many different ways. They're responsible for everything from wrinkles to dark spots to dryness. So, if you know that you've been neglectful when it comes to sun protection, then this could be the reason behind the dry skin on face that you've been experiencing.
One of the most common complaints that we hear about sunscreens is how they leave a white residue behind on the skin. Many people also simply forget to continuously reapply them throughout the day, meaning that their skin is left unprotected once their first application wears off after a couple of hours.
In our experience, the best way to deal with both of these issues is to find a sunscreen that you genuinely love. This way, you'll be much more likely to remember to apply it regularly. You'll even enjoy doing so!
At Lavelier, our favorite sun-protecting formula is our Divine Day Defense SPF 30. It combines its UV-blocking agents with all of the properties of a good moisturizer, meaning that you'll be able to experience double the benefits by using this product. 
Cut Back on Hot Showers
A long hot shower at the end of a stressful day may feel ultra relaxing, but it's also causing some serious damage to your skin.
How? Because hot water strips away the natural oils that make up your skin's protective barrier. This causes an increase in moisture loss, leaving the skin significantly drier after every hot shower. Since the skin on the face is much thinner than the skin on the rest of your body, it's far more susceptible to the damage that hot water can cause.
So, while it may not feel quite as satisfying, try turning the temperature down whenever you take a shower or a bath. Keep the water lukewarm, or cooler if you can handle it. Your skin will definitely thank you!
The Bottom Line
There's plenty that you can do to rehydrate dry skin on face. From slathering on hydrating skincare ingredients to protecting your vulnerable skin barrier from further damage, our tips will help you to quench your thirsty skin cells in no time, giving you a complexion that looks soft, dewy, and naturally moisturized.
Click here to check out more hydrating bestsellers from Lavelier.