People, by nature, love the idea of new beginnings. There is an innate sense of hope and joy in them, the idea that we get a blank canvas. This is why the world has made a tradition out of making new year's resolutions. While the time that separates one year from the next is quite literally only one second, we see new years as a chance to renew and improve ourselves.
This year, why not apply that logic to your skin? The body's largest organ, our skin weathers all sorts of conditions throughout the year — for that, we should be thankful. Let this coming year become a chance for you to treat yourself and your body better with these new year's resolutions for your skin:
Make a Habit of Removing Your Makeup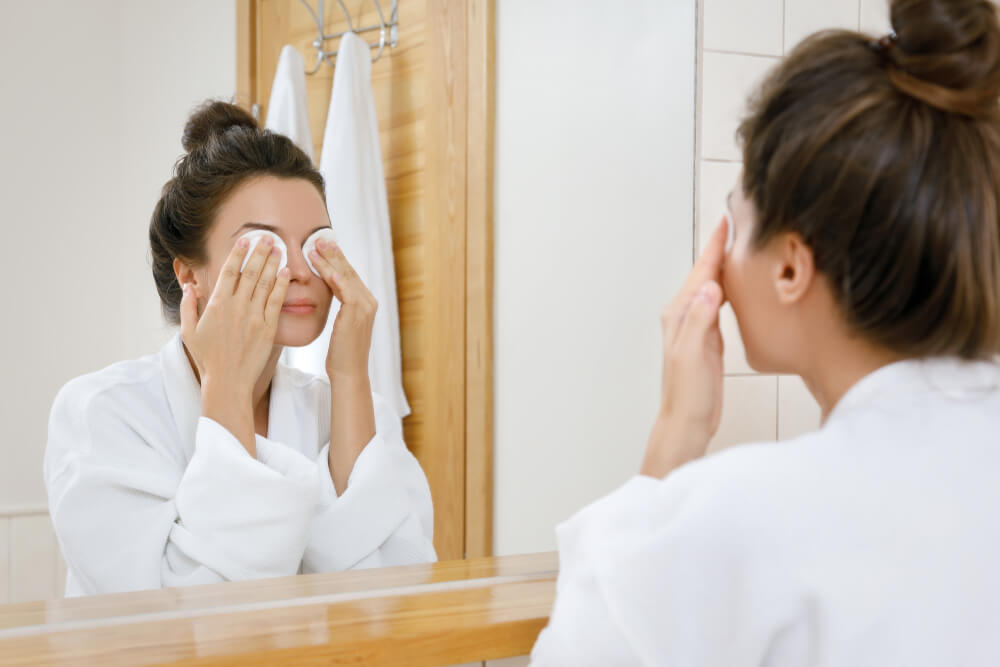 Whether you seldom wear makeup or consider it a necessity, being covered in foundation, concealer, and other products can be stressful for the skin. When worn for long hours, the skin can begin to get itchy or irritated. Bacteria also collects on our skin throughout the day. This makes it important to get all our makeup off before proceeding with evening skincare.
This is easier said than done, of course. We all know what it's like to come home from a day of work or an evening of holiday parties, too worn out to remove our makeup (or do any skincare at all for that matter.) However, the new year is a chance for you to take charge of your habits, including finally making a habit of makeup removal.
Choosing a Gentle Makeup Remover
This coming year, consider making the Biology Mousse Cleanser your go-to cleansing product to achieve your new year's resolutions for your skin. A great choice for mature and dry skin, the Biology Mousse Cleanser has a rich mousse consistency that does not strip the skin of its natural oils.
When massaged into the skin, the product transforms into a creamy lather that moisturizes with Glycerin, Sodium PCA, and Sodium Lactate as it diminishes bacteria and dirt.
The Biology Mousse Cleanser is also ideal for those with sensitive skin. It is completely free of alcohol, essential oils, and fragrance, all of which can irritate the skin. Instead, it features a cocktail of beneficial ingredients like:
Marigold Flower Extract

Moringa Seed Oil

Willow Bark Extract
As a cleansing product, the Biology Mousse Cleanser has its fair share of surfactant ingredients. These are the elements in a product that help the product to spread evenly and easily, equipped with a head that is attracted to water and a tail that loves oil. While many surfactants can be overly harsh on the skin, the Biology Mousse Cleanser uses coconut-derived alternatives that do the job gently.
Follow Up with a Toner
The Marine Facial Toner is another product worth thinking about when coming up with your new year's resolutions for your skin. While some consider toner to be an optional step, we at Lavelier consider this gentle yet effective product a non-negotiable. Toners are a multi-use skincare step that can elevate a skincare regimen from good to even better.
In particular, the Marine Facial Toner can benefit the skin by:
Rebalancing the feel of the skin after cleansing

Picking up remaining dirt and debris left after the initial cleanse

Leaving the skin feeling more hydrated
Exfoliate Regularly and Carefully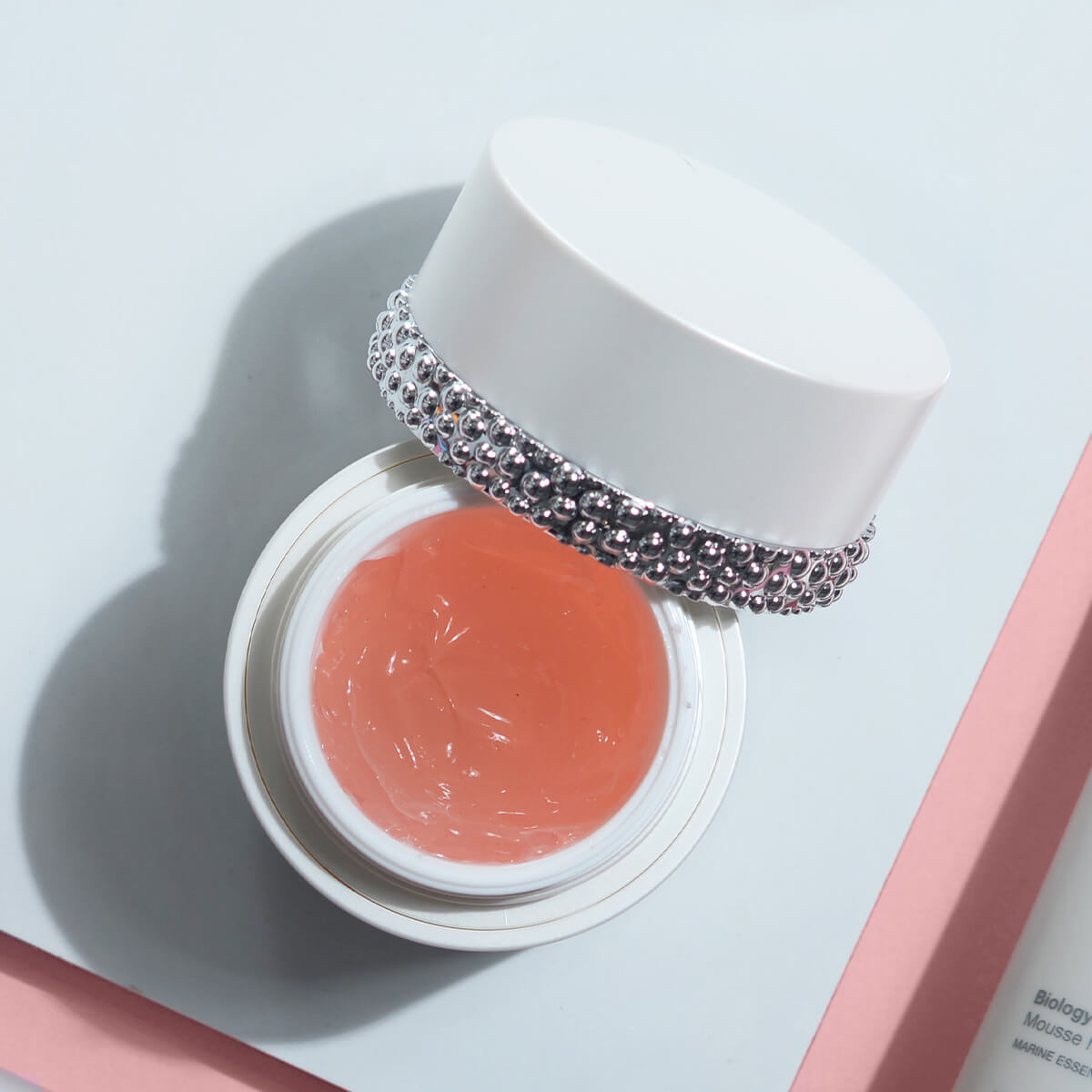 Time and again, the beauty industry fixates on exfoliation. Once upon a time, harsh physical scrubs with sharp and abrasive microparticles were all the rage. Beauty junkies have since graduated to gentler formulations that still do all an exfoliator should: slough off dead skin cells and reveal more radiant-looking skin.
An exfoliator that deserves a spot in your upgraded routine is the Intensive Facial Peel. While its name may sound intimidating, this formula is ideal for all skin types. Combining finely milled Nut Shell Powder with our signature Red Coral Seaweed, this product effectively removes dead cells, providing you with the perfect base for the rest of your routine.
Unlike most skincare steps, using an exfoliator "regularly" does not mean using it every day. Since the Intensive Facial Peel is equipped with a potent formula, you only need to use it once a week on cleansed dry skin. This schedule, while low-maintenance, can be difficult to remember. We suggest setting a reminder on your calendar to help you remember your exfoliating new year's resolutions for your skin! 
Show the Eye Area Some Love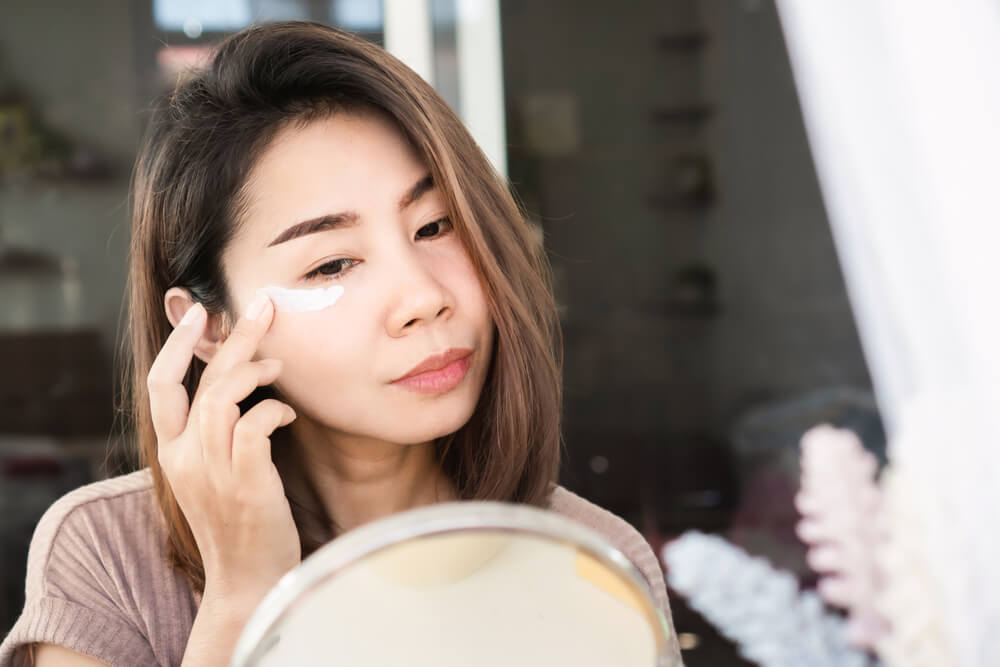 If there were an award for the most sensitive, most fragile part of the face, the eye area would win it hands down. Thinner than the rest of our skin, the eye area is especially prone to creasing, fine lines, and wrinkles. Needless to say, the area below and around our eyes needs a little extra care.
This may not sound appealing to skincare minimalists who have no intention of expanding their regimen, but a consistent eye care routine makes all the difference. This year, why not trade in the appearance of puffy eyebags and dark circles for a refreshed and rejuvenated look?
We at Lavelier recommend a two-step eye care system to get you started on your new year's resolutions for your skin:
Caring for the Skin Around Your Eyes
The first step is the Fine Line Eye Serum. An elixir to wake up your eye area, this serum contains:
Beta-Glucan

. An all-around goodie, Beta-Glucan fights diabetes, cancer, and high cholesterol when consumed. When applied topically, it leaves skin feeling deeply moisturized

Trehalose. A sugar derived from nature, this ingredient has moisture-binding properties

Caffeine. While Caffeine is most commonly associated with its ability to reduce the look of puffiness, it also deserves recognition for how it brightens the look of the skin too

Butylene Glycol. A humectant and solvent, this ingredient helps the product spread evenly and penetrate deeper into the skin.
Despite being full of beneficial ingredients, the Fine Line Eye Serum remains lightweight and non-greasy. To truly lock it in, follow it up with Lavalier's Eye Firming Concentrate.
Thicker and richer than the serum, the Eye Firming Concentrate features Sunflower Seed Oil, an oldie but goodie plant oil that has been used by American Indians for over 5000 years.
Despite being an oil, it is non-comedogenic. This means that the ingredient works well with all skin types, including oily and acne-prone.
An ideal product to support your new year's resolutions for your skin, the Eye Firming Concentrate also includes Vitamin A in the form of Retinyl Palmitate. This is known for being a less harsh alternative to Retinol. To complement Vitamin A in its formulation, the product also contains Vitamin E. This keeps the skin feeling calm as the more powerful ingredients get to work.
Adapt to the Seasons
Developing an attachment to your skincare regimen is normal. Most are the result of years of trial and error and first-hand research, so why bother changing it?
The answer lies in the ever-changing view outside your window. As the seasons change, your skincare routine should, too. But don't fret, we're not telling you to dispose of your routine every time the weather turns warmer or the temperature dips below zero. Instead, consider new year's resolutions for your skin that involve small but effective modifications.
For instance, let's talk about moisturizers. While you might not need to swap out your cleanser or toner when the seasons change, you'll want to consider having a rotation of at least two moisturizers: one for the warmer months, and another cooler weather.
In the summer, you need a cream that delivers just enough moisture to the skin without feeling heavy, greasy, or sticky. The HydroTherm Completion Creme fits the bill. With Cucumber Fruit Extract, this moisturizer helps keep the skin feeling hydrated and fresh.
To truly pack in the benefits, the formulation also includes Retinol, a cult favorite solution to achieving skin that looks smoother and firmer.
In the fall and winter, you'll want to reach for something richer than your summer moisturizer. Our pick for the cooler months is the Moisture Allure Cream. Low temperatures and strong wind can leave the skin feeling dry, sensitive, and fatigued. However, the lush Moisture Allure Cream can help soothe and moisturize the feel of the skin with its Aloe Leaf Extract and Hydrolized Oat Protein.
Religiously Apply SPF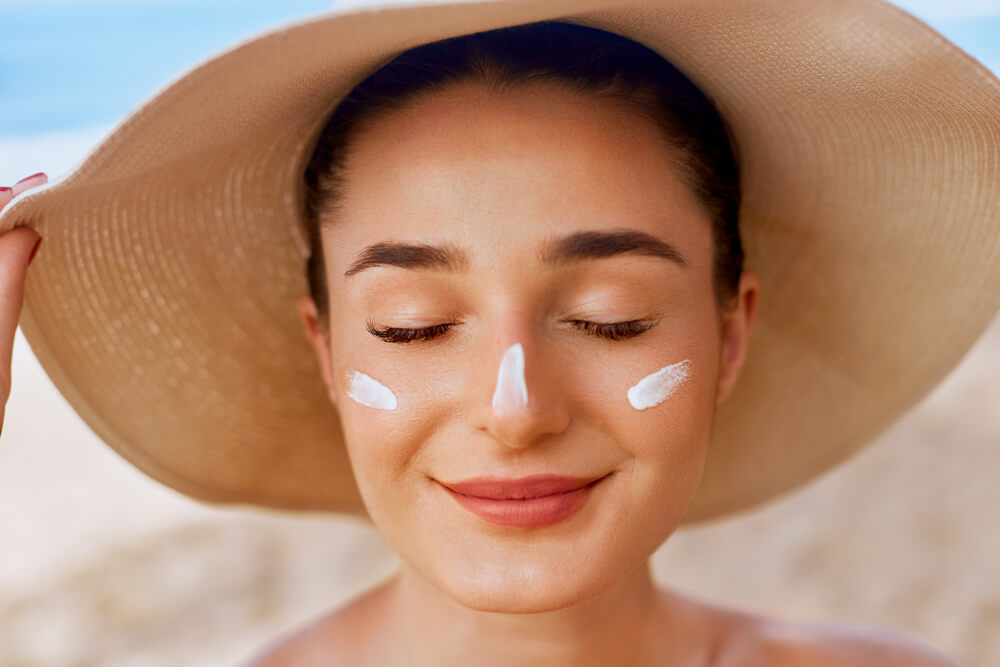 You've likely heard it before: sunscreen is a must all year-'round. Skipping SPF can leave long-term effects on the skin, such as sunspots, discoloration, and compromised texture. Even more startling than the visible effects, however, is the looming risk of skin cancer. According to the Skin Cancer Foundation, sunscreen reduces the skin's overall exposure to UV damage, therefore reducing the risk of skin cancer. If you're going to dive headfirst into any of your new year's resolutions for your skin, let it be this one.
If you're new to sun protection or find it uncomfortable, you can work your way into a habit gradually. An SPF level of 15 should suffice for a day indoors, but opt for at least SPF 30 when you head outside.
The Divine Day Defense SPF30 from Lavelier makes for a great option. A sunscreen-infused moisturizer, this cream is rich in ingredients to defend the skin from UV damage. It contains extracts like Aloe Leaf and Green Tea to leave skin feeling soothed, and marine extracts to combat the appearance of aging.
Start Investing in Quality Products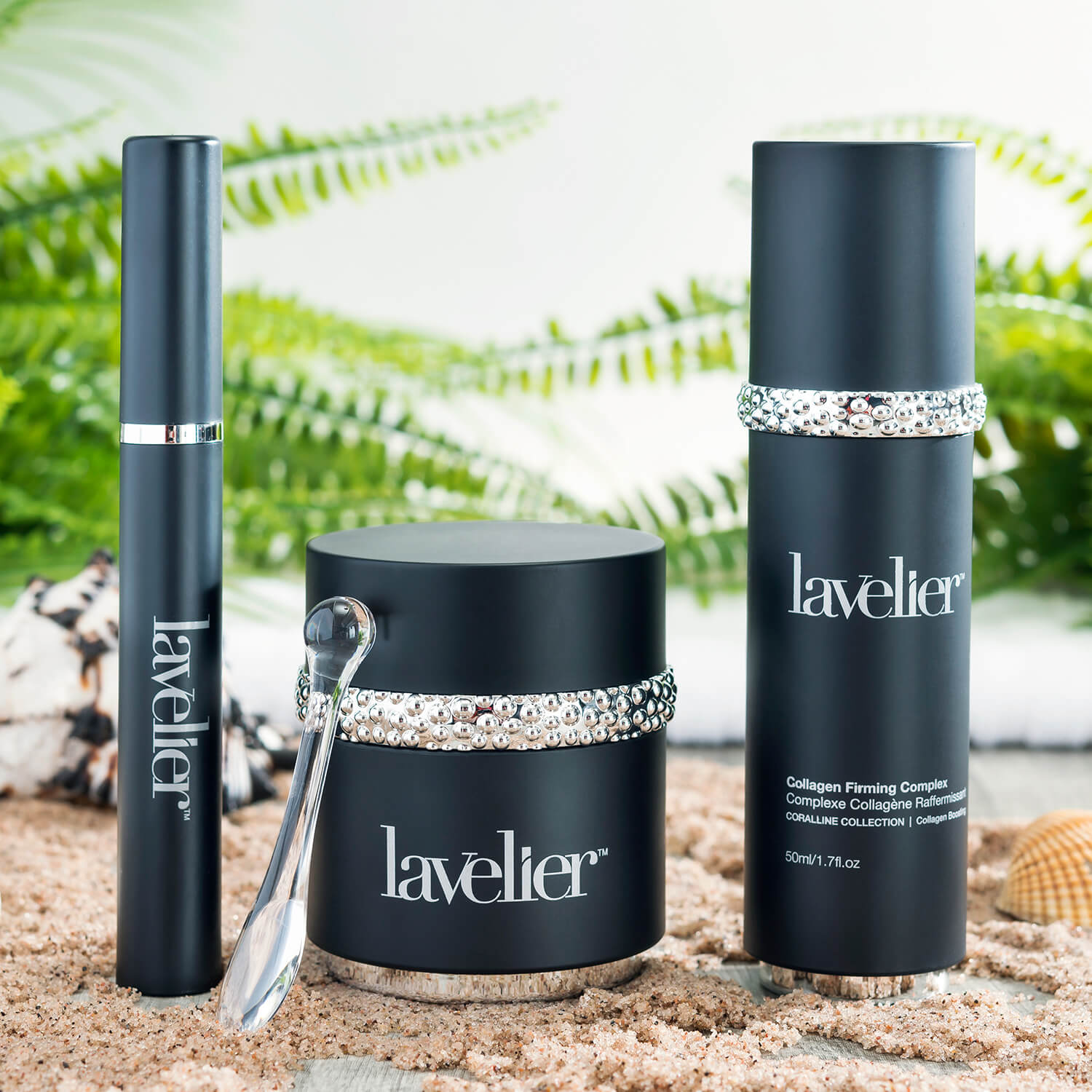 They say prevention is better than cure — and this sentiment rings especially true for combating the visible signs of aging. While aging is an inevitable and beautiful process, there are visible signs that come with it: wrinkles, fine lines, sagging, dryness, and more. Thankfully, there are ways to minimize the appearance of these signs to give off a more youthful look.
As a brand that specializes in targeted solutions, here are some top products from Lavelier to reduce the appearance of skin aging:
Collagen Firming Complex Serum

. Infused with Soluble Collagen and Hyaluronate, this serum provides a boost of moisture to reduce the appearance of fine lines. Its formulation also features Retinyl Palmitate (Vitamin A),

Ascorbic Acid (Vitamin C), and Tocopheryl Acetate (Vitamin E) to simultaneously smooth, brighten, and soothe the look and feel of the skin.
Coralline Collagen Wrinkle IV Rescue. A potent blend of Vitamin E, Avocado Oil, and Hyaluronic Acid, this non-surgical syringe targets the appearance of lines and loose, sagging skin. Its innovative packaging allows you to easily apply the product to specific areas of the face.
Coralline Collagen Boosting Masque. A quick pick-me-up for mature skin, the Coralline Collagen Boosting Masque is a 10-minute wash-off mask that reboots the look of skin elasticity with Collagen and Coral Seaweed.
Choose Your Ingredients Wisely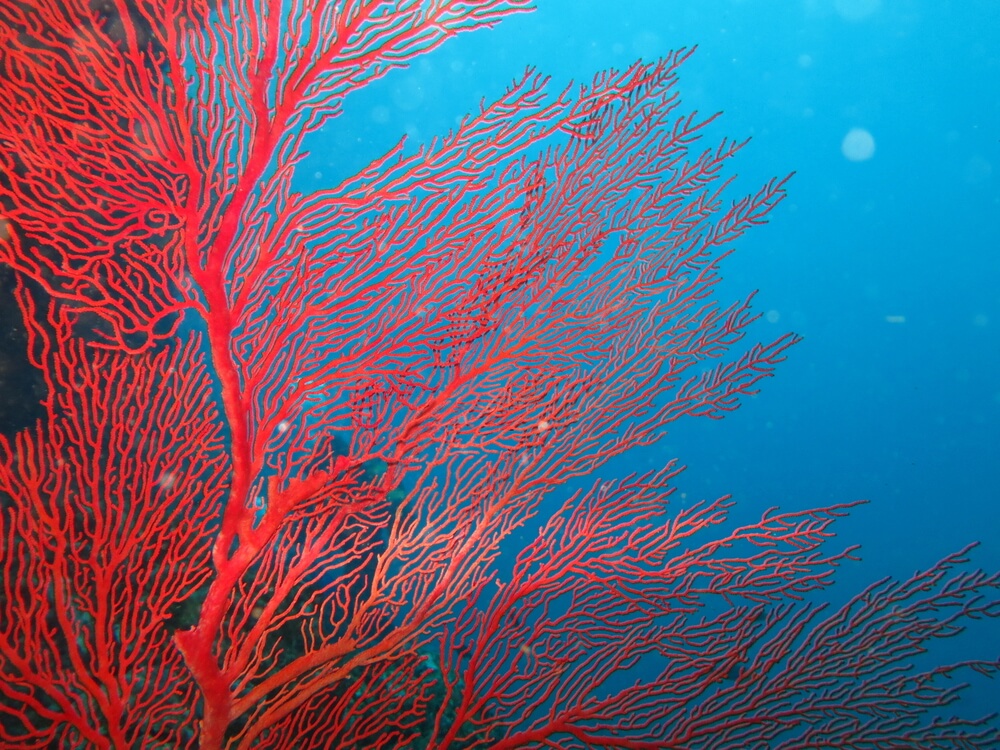 There's a long list of new year's resolutions for your skin that you can commit to, but at the end of the day, it's all about selectively choosing products that will benefit your skin most. Opt for ingredients that contribute to your skin's all-around health.
One such ingredient is Red Coral Seaweed. Our central ingredient here at Lavelier, this unique marine specimen is present across our product lines. Found at the edge of tide pools and rocky shores, Red Coral Seaweed is rich in compounds that help keep the skin feeling healthy. 
Achieve your new year's resolutions for your skin with Lavelier and our Red Coral Seaweed-infused skincare products. Explore more of our best-sellers online.